As Gas Heads To $5, Obama Seeks To Block New Drilling – Now The End Begins
Whose side is he on anyway?
Oh, I'm sorry, was that a rhetorical question? While the Middle East wars rage out of control and gas continues it's climb to $5.00 per gallon, the Obama administration is appealing a judge's orders to approve existing permits to drill in the Gulf. Isn't it great having a Socialist president?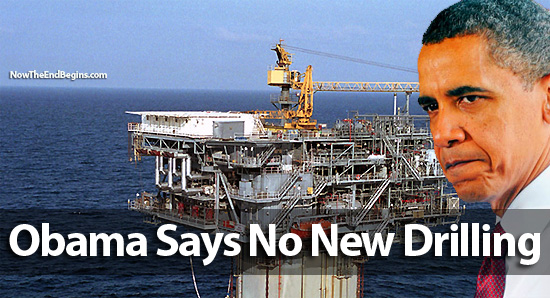 Politico reports::
The Obama administration late Friday appealed a judge's orders directing the Interior Department to act on several Gulf of Mexico deepwater drilling permits. The appeal is the latest salvo in the ongoing fight over the speed with which Interior is – or isn't – letting oil drillers get back to work after last year's BP oil spill.

Gulf state lawmakers and the oil industry have accused the department of enacting a "de facto" moratorium against new drilling, while Interior says it needs to ensure safety and environmental protections are in place. Friday's appeal challenges rulings by Judge Martin Feldman of the U.S. District Court for the Eastern District of Louisiana, who on Feb. 17 gave Interior 30 days to make a verdict on five pending deepwater drilling permits applications. He later added two additional permits to that order.

Interior Secretary Ken Salazar had hinted the appeal was coming at a Senate hearing Wednesday.

"The judge in this particular case in my view is wrong," Salazar said. "And we will argue the case because I don't believe that the court has the jurisdiction to basically tell the Department of Interior what my administrative responsibilities are." He added, "the policy we have in mind is unmistakably clear: We are moving forward with the development of oil and gas" production."

Earlier in February, the judge held Interior in contempt, citing "dismissive conduct" by blocking offshore drilling during last year's spill.

The delay in issuing permits since last year's Gulf of Mexico oil spill is "increasingly inexcusable," Feldman wrote. Interior on Monday announced the approval of the first deepwater drilling permit held up since last year's spill. The permit, issued to Noble Energy for a well partially owned by BP, was not one of those that Feldman's ruling addressed.
————————————————————————————————————————————————-
Related:
Obama Loans Mexico $1 Billion To Drill In Gulf; Cuba Now Set To Drill In Gulf Too – Cypress Times
As a federally imposed moratorium on offshore drilling continues for U.S. companies, the Obama administration has loaned the government of Mexico $1 Billion in taxpayer money in order to drill in the Gulf of Mexico. Cuba also announces a partnership with Spain to begin drilling in the Gulf at depths far greater than that of Deepwater Horizon.
The loan from Obama will be given to PEMEX, the Mexican state owned oil company in order to bolster the company's oil drilling in the Gulf region. The loan has been arranged through the U.S. Export-Import Bank, which is the official U.S. export credit agency. The U.S. Export-Import Bank loaned PEMEX $1 billion in 2009.
Obama stops U.S. drilling in the Gulf in response to "safety" and "environmental" concerns following the BP Deepwater Horizon oil spill. So, U.S. oil rigs sit idle in the Gulf of Mexico. U.S. oil rig workers go without work. Now, the government of Mexico, backed with U.S. funds, will drill in those same waters. Does President Obama believe that Mexico's PEMEX is more competent to drill in the Gulf? Does President Obama believe that Mexico will be better able to protect the environment?
Click HERE For Rest Of Story
————————————————————————————————————————————————-
Related:
Obama Surrenders Gulf Oil To Moscow – Washington Times
The Obama administration is poised to ban offshore oil drilling on the outer continental shelf until 2012 or beyond. Meanwhile, Russia is making a bold strategic leap to begin drilling for oil in the Gulf of Mexico. While the United States attempts to shift gears to alternative fuels to battle the purported evils of carbon emissions, Russia will erect oil derricks off the Cuban coast.
Offshore oil production makes economic sense. It creates jobs and helps fulfill America's vast energy needs. It contributes to the gross domestic product and does not increase the trade deficit. Higher oil supply helps keep a lid on rising prices, and greater American production gives the United States more influence over the global market.
Drilling is also wildly popular with the public. A Pew Research Center poll from February showed 63 percent support for offshore drilling for oil and natural gas. Americans understand the fundamental points: The oil is there, and we need it. If we don't drill it out, we have to buy it from other countries. Last year, the U.S. government even helped Brazil underwrite offshore drilling in the Tupi oil field near Rio de Janeiro. The current price of oil makes drilling economically feasible, so why not let the private sector go ahead and get our oil?
The Obama administration, however, views energy policy through green eyeshades. Every aspect of its approach to energy is subordinated to radical environmental concerns. This unprecedented lack of balance is placing offshore oil resources off-limits. The O Force would prefer the country shift its energy production to alternative sources, such as nuclear, solar and wind power. In theory, there's nothing wrong with that, in the long run, assuming technology can catch up to demand. But we have not yet reached the green utopia, we won't get there anytime soon, and America needs more oil now.
Russia more sensibly views energy primarily as a strategic resource. Energy is critical to Russia's economy, as fuel and as a source of profit through export. Russia also has used energy as a coercive diplomatic tool, shutting off natural gas piped to Eastern Europe in the middle of winter to make a point about how dependent the countries are that do business with the Russians.
Now Russia is using oil exploration to establish a new presence in the Western Hemisphere. It recently concluded four contracts securing oil-exploration rights in Cuba's economic zone in the Gulf of Mexico. A Russian-Cuban joint partnership will exploit oil found in the deep waters of the Gulf.
————————————————————————————————————————————————-
Related:
Obama Underwrites Offshore Drilling, Too Bad It's Not In U.S. Waters – Wall Street Journal
The U.S. is going to lend billions of dollars to Brazil's state-owned oil company, Petrobras, to finance exploration of the huge offshore discovery in Brazil's Tupi oil field in the Santos Basin near Rio de Janeiro. Brazil's planning minister confirmed that White House National Security Adviser James Jones met this month with Brazilian officials to talk about the loan.
The U.S. Export-Import Bank tells us it has issued a "preliminary commitment" letter to Petrobras in the amount of $2 billion and has discussed with Brazil the possibility of increasing that amount. Ex-Im Bank says it has not decided whether the money will come in the form of a direct loan or loan guarantees. Either way, this corporate foreign aid may strike some readers as odd, given that the U.S. Treasury seems desperate for cash and Petrobras is one of the largest corporations in the Americas.
————————————————————————————————————————————————-
Related:
Remember this little gem from Barack Obama's January 2008 interview with the San Francisco Chronicle?