Patriots Edge Ravens To Reach Seventh Super Bowl – AFP
New England quarterback Tom Brady scored on a 1-yard run with 11:29 to play on Sunday to give the Patriots a 23-20 NFL playoff victory over Baltimore and their seventh trip to the Super Bowl.
The outcome was not decided until Baltimore kicker Billy Cundiff missed wide of the left upright on an attempt at an equalizing 32-yard field goal with 11 seconds remaining.
……………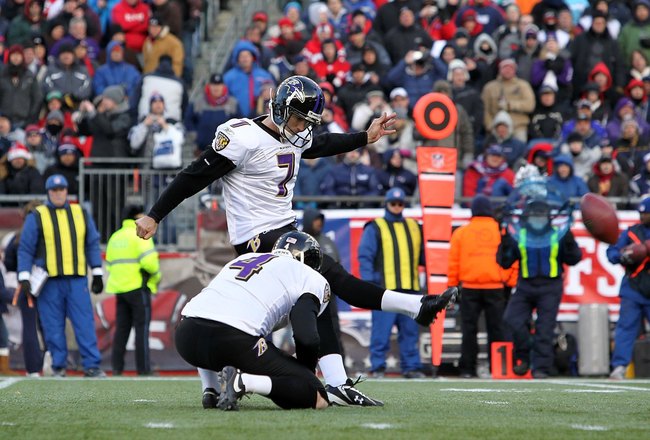 Brady, who will match John Elway with a record five career Super Bowl starts, improved to 10-2 in home playoff games and 5-1 in American Conference finals over his 11 seasons as a starter for New England.
The Patriots will face the winner of Sunday's later National Conference final between the San Francisco 49ers and New York Giants in Super Bowl 46 on February 5 at Indianapolis, Indiana.
New England has won the Super Bowl three times, all under Brady's direction, in 2002, 2004 and 2005. The Patriots lost the championship spectacle in 1986, 1997 and 2008, when their bid for a perfect season was spoiled by the Giants.
Brady dived over his blockers on a fourth-down play inches from the goal line for a touchdown that gave the Patriots a 23-20 lead with 11:29 remaining, capping an 11-play, 63-yard drive.
New England's Brandon Spikes intercepted a Joe Flacco pass on Baltimore's next drive to give the Patriots the ball at midfield, only to have Jimmy Smith intercept a Brady pass on the next play to give the ball back to the Ravens.
Baltimore coach John Harbaugh chose not to have Cundiff attempt a 51-yard field goal, having seen him make only 1-of-6 from beyond 50 yards all season. But Flacco was incomplete on a fourth-down-and-six-yard pass play.
The Patriots took over with 2:45 remaining, but could not run out the clock, setting the stage for Baltimore's final drive, which ended in heartbreak on two Flacco incompletions and Cundiff's miss.
Stephen Gostkowski kicked a 35-yard field goal with 3:00 to play in the second quarter to give New England a 13-10 half-time lead and added another from 24 yards six minutes into the third quarter.
The Ravens responded with a 29-yard touchdown pass to Smith, taking their first lead at 17-16 with 5:49 to play in the third.
Smith caught the pass at the line of scrimmage, evaded one defender and outraced another along the sideline to the front edge of the end zone.
Baltimore got the ball back after the ensuing kickoff when New England's Danny Woodhead fumbled and the Ravens' Emanuel Cook recovered, setting up a 39-yard Cundiff field goal for a 20-16 edge entering the fourth quarter.
Benjarvus Green-Ellis had scored on an 7-yard run only 4:25 into the second quarter to give New England a 10-3 lead. Green-Ellis ran for 36 yards on the Patriots' 13-play touchdown drive.
Baltimore answered just 4:32 later, pulling level at 10-10 when Flacco completed his seventh consecutive pass, a 6-yard touchdown toss to Dennis Pitta, to complete an 8-play, 80-yard drive.
The Ravens' first penalty in 180 plays wiped out an interception on New England's first drive across midfield, a 13-play march that ended on a 29-yard Gostkowski field goal for a 3-0 Patriots lead with only 9:11 elapsed.
Baltimore's Lardarius Webb picked off Brady on the next New England series and Flacco followed with a 42-yard pass to Smith that set up a 20-yard Cundiff field goal two plays into the second quarter.