Why Attorney General Eric Holder Is The Worst In U.S. History – Conservative Daily News
Eric "fast and furious" Holder's legacy of corruption, power, influence, and greed will be a tough act for any future Attorney General to follow. He is the only Attorney General in our nation's history to facilitate the pardon of a convicted felon and fugitive. Like Barack Obama, he is a privileged minority with a chip on his shoulder and a fellow supporter of Black Liberation Theology.
.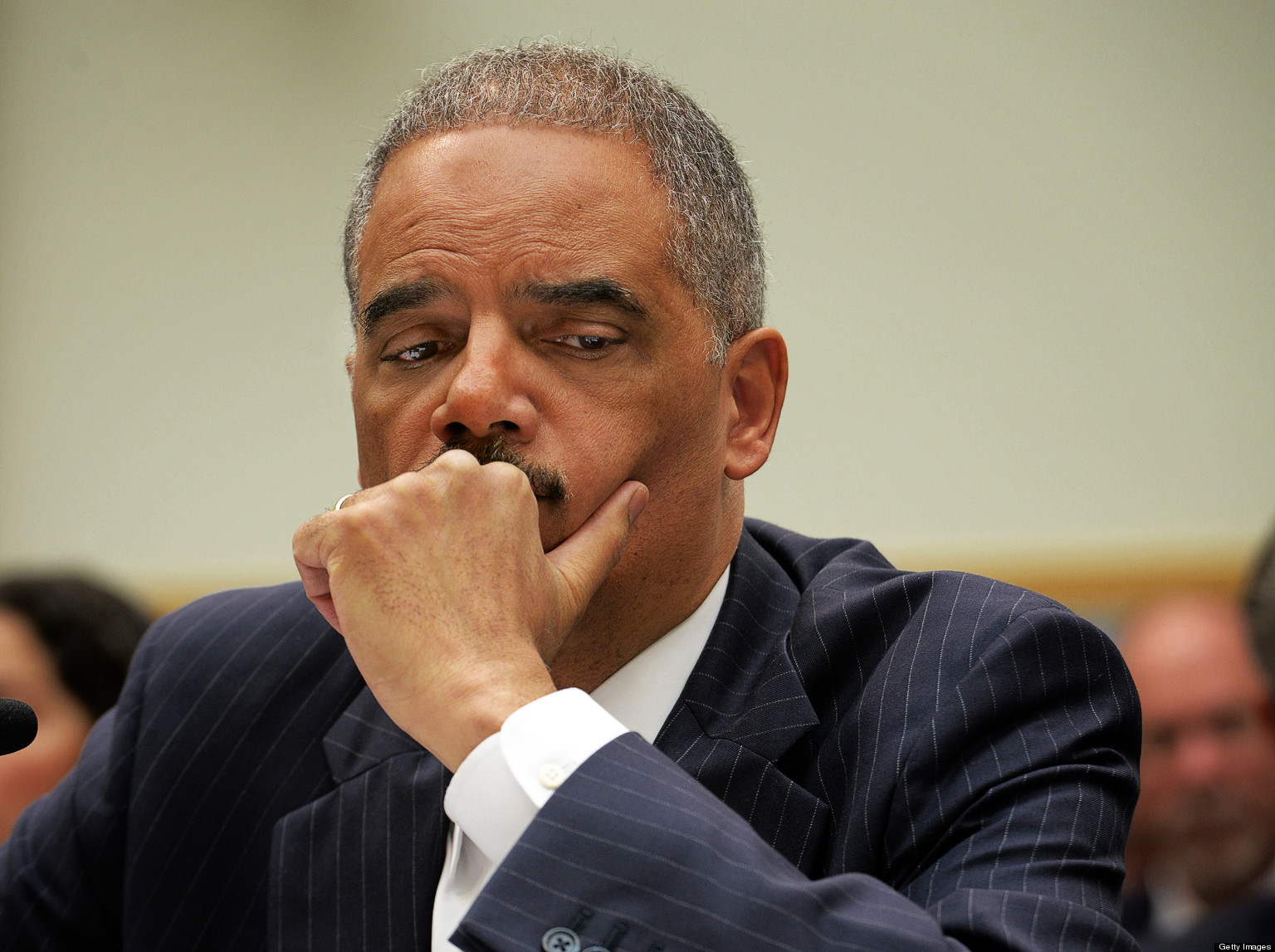 But that's not even the worst of it.
Here are the reasons why our current Attorney General is the worst in no particular order:
He represented Washington, DC in DC versus Heller joining then Attorney General Janet Reno in an amicus brief urging the Supreme Court to uphold the DC hand gun ban. In his argument he actually said, "The Second Amendment does not protect an individual's right to keep and bear arms for purposes unrelated to a state's operation of a well regulated militia." (Sorry Mr. Holder, but the Second Amendment is not negotiable or left to interpretation.)
He advocated for and justified the use of drones to kill US citizens even on US soil. On March 5, 2013 Eric Holder said this, "Drone strikes against American citizens on US soil are legal. After this outrageous statement the Attorney General started to backtrack from these comments saying, "Using lethal force against American citizens on US soil was highly unlikely. We hope no President will ever be faced with that decision. However if there was an imminent threat such as a domestic terror attack on the country similar to Pearl Harbor or 9-11 it is conceivable that the use of an unmanned aircraft could be used as a viable option. (Mr. Holder, the fact that you believe this should make every American fearful of you, this Administration, and our government.)
He Initially was a proponent of trying 9-11 mastermind Khalid Sheikh Mohammed in a New York City courtroom rather than at a military tribunal. (Sorry, Mr. Holder but this animal who maliciously murdered almost three thousand of your fellow Americans doesn't deserve to have some Columbia leftist lawyer like yourself representing him, let alone in New York City at the scene of the crime.)
He blocked legislation in Texas and other states that called for voters to show picture ID in order to curb illegal voting. His ridiculous reason was, "It would disproportionately affect minority voters from the electoral process." (No Mr. Holder it would stop voter fraud which you obviously support and no it would not be a poll tax either as most of the legislation called for cost free ID cards.)
He refused to prosecute and even dropped the charges against the New Black Panther Party; who on Election Day in 2008 stood outside polling stations dressed in paramilitary uniforms, carrying nightsticks and intimidated voters. His reason: He has stated on many occasions that he is unwilling to prosecute minorities for civil rights violations. "I think it does a great disservice to people who put their lives on the line for my people." (Mr. Holder, not only is this a blatant disregard for the rule of law, but more importantly it shows what a racist anti-white bigot you are as you selectively disenfranchise voters you deem unworthy of such.)
He filed a law suit against the state of Arizona over their anti illegal immigration bill, SB 1070 without even reading it first. He said the bill might lead to "racial profiling". (Mr. Holder, SB 1070 does not racially profile anyone. Maybe if you would've read it first you would've known that.)
In February 2011, he announced that the Department of Justice would no longer defend cases involving the Defense of Marriage Act in court. He deemed DOMA was unconstitutional. (Wrong again Mr. Holder, where in the Constitution does it say that Traditional Marriage is unconstitutional, but Gay Marriage is constitutional? I think your reason is like yourself, a little light in the loafers.)
He was found in contempt of Congress by the House Oversight Committee for lying, misleading, and stonewalling the investigation by withholding information concerning the gun running scandal Operation Fast and Furious. (Mr Holder, I hope you can sleep at night with the blood of Border Agent Brian Terry on your hands as well as numerous others who died by the guns you provided to Mexican Drug Cartels.)
His most recent scandal is unfolding as I write this. His Justice Department has acquired illegal phone records from many reporters and editors at the left leaning Associated Press. This was in retaliation to a story the Associated Press ran about a Covert Mission in Yemen that foiled the plot of the so called "underwear" bomber.
The Obama Administration lied to the American people when they said publicly that they had no imminent or credible threat of a coming terrorist attack that was to coincide with the anniversary of Osama Bin Laden's death. This was not true and the Associated Press knew they were not telling the truth. In fact, the Administration pleaded with the Associated Press not to run the story because it was in an Election year.
As soon as the Associated Press ran the story the Administration illegally seized over two months of phone records. (Mr. Holder, your disgusting intimidation tactics make you unfit to hold the position in our government that you do. I can only hope and pray that you, your boss, and all of his Socialist, Marxist, cohorts eventually go down with the ship. If the Republicans had any testicular fortitude you would all be wearing black and white stripes in Leavenworth.)
The Constitution says we need to keep America safe from all enemies both foreign and domestic. Throughout our history we have fought foreign enemies in far away lands but now we have an enemy within our own borders and inside our government.
America is the last great hope on earth; without our compassion and guidance the world would be a very dark and dismal place. America has been the leader in prosperity, freedom, liberty, and self governance since its founding. The Obama Administration is like a cancer and its supporters are the carriers of the disease known as liberalism. If we don't stop them soon they will destroy what little we have left in regard to liberty and freedom. How do you destroy the greatest, most powerful country on earth? Just ask the Obama Administration and Eric Holder; they seem to have all the answers.
.
——————————————————————————————————————————–
.
Related article:
.
Eric Holder Tells Press In Off-The-Record Meeting: We Won't Spy On You Anymore – The Blaze
In a meeting with Attorney General Eric Holder, executives from several news organizations said the attorney general pledged to change the way the Justice Department conducts investigations that involve reporters.
Government officials said they would work to change guidelines on issuing subpoenas in criminal investigations involving reporters and ensure searches that have raised concerns recently about freedom of the press are not repeated, the editors said.
The news executives made the comments Thursday after meeting with Holder and some of his aides.
The discussion took place following an outcry from news organizations over the Justice Department's secret gathering of some Associated Press reporters' phone records and some emails of a Fox News journalist.
Last week, President Barack Obama ordered a review of the Justice Department guidelines.
One of the news media participants, Marty Baron, executive editor of the Washington Post, said the news executives told the department officials that reporters were concerned about using their email and concerned about using their office telephones.
"It was a constructive meeting," said Baron. "They expressed their commitment to the president's statement that reporters would not be at legal risk for doing their jobs."
Jerry Seib, Washington bureau chief of The Wall Street Journal, said that in addition to the commitment to change the guidelines, there also was a renewed commitment to support a federal shield law for journalists. Such laws in force in many states protect journalists from having to reveal confidential sources.
"We diplomatically raised our concerns – don't know what's going to happen if anything," said Jim Warren, Washington bureau chief of the New York Daily News. "Who knows what's going to happen if they practice what they seem to preach and try to change some laws that we feel are very relevant. I think it's sort of an opening gambit." Warren said "there were some specifics talked about, more of a legal and statutory nature," but he did not elaborate.
Other news media participants were Jane Mayer, a staff writer for the New Yorker; and John Harris, editor in chief of Politico.
The Associated Press didn't attend the meeting because it objected to the meeting being off the record. The New York Times said it wouldn't attend because of the department's off-the-record ground rules.
Asked why the news executives decided to participate, Baron said people in the press frequently have off-the-record discussions.
"We feel very strongly about the issues here," said Baron. "This was an opportunity for us to share our views with people at the highest level of the Justice Department."
Besides Holder, Deputy Attorney General James Cole and seven other Justice Department officials also participated.
.
——————————————————————————————————————————–
.
It's Come To This: Holder Justice Department Says It Will Help Enforce Islamic Sharia Law – Doug Ross Journal
You just knew this was coming, didn't you?
DOJ: Social Media Posts Trashing Muslims May Violate Civil Rights

In its latest effort to protect followers of Islam in the U.S. the Obama Justice Department warns against using social media to spread information considered inflammatory against Muslims, threatening that it could constitute a violation of civil rights.

[Ed.: Apparently the DOJ needs to read the Bill of Rights again and, in particular, the First Amendment.]

The move comes a few years after the administration became the first in history to dispatch a U.S. Attorney General to personally reassure Muslims that the Department of Justice (DOJ) is dedicated to protecting them. In the unprecedented event, Attorney General Eric Holder assured a San Francisco-based organization (Muslim Advocates) that urges members not to cooperate in federal terrorism investigations that the "us versus them" environment created by the U.S. government, law enforcement agents and fellow citizens is unacceptable and inconsistent with what America is all about.

…Evidently that was a precursor of sorts for an upcoming Tennessee event ("Public Disclosure in a Diverse Society") that will feature the region's top DOJ official [Bill Killian], who serves as U.S. Attorney for the Eastern District of Tennessee, and an FBI representative. The goal is to increase awareness and understanding that American Muslims are not the terrorists some have made them out to be in social media and other circles, according to a local newspaper report. The June 4 powwow is sponsored by the American Muslim Advisory Council of Tennessee.

The area's top federal prosecutor, Bill Killian, will address a topic that most Americans are likely unfamiliar with, even those well versed on the Constitution; that federal civil rights laws can actually be violated by those who post inflammatory documents aimed at Muslims on social media. "This is an educational effort with civil rights laws as they play into freedom of religion and exercising freedom of religion," Killian says in the local news story. "This is also to inform the public what federal laws are in effect and what the consequences are."

…Over the years the Obama administration has embarked on a fervent crusade to befriend Muslims by creating a variety of outreach programs at a number of key federal agencies. For instance the nation's Homeland Security covertly met with a group of extremist Arab, Muslim and Sikh organizations to discuss national security matters and the State Department sent a controversial, anti-America Imam (Feisal Abdul Rauf) to the Middle East to foster greater understanding and outreach among Muslim majority communities.

The Obama Administration has also hired a special Homeland Security adviser (Mohamed Elibiary) who openly supports a radical Islamist theologian and renowned jihadist ideologue and a special Islam envoy that condemns U.S. prosecutions of terrorists as "politically motivated persecutions" and has close ties to radical extremist groups.

The president has even ordered the National Aeronautics and Space Administration (NASA) to shift its mission from space exploration to Muslim diplomacy and the government started a special service that delivers halal meals, prepared according to Islamic law, to home-bound seniors in Detroit. [And who] could forget Hillary Clinton's special order allowing the reentry of two radical Islamic academics whose terrorist ties have long banned them from the U.S.?
In other words, criticizing Islamofascism – the political strain of Islam – could very well be criminalized by the Obama-Holder administration. The Islamist term for this crime is "Blasphemy", which may include one or more of the following crimes:
- speaking ill of Allah
- finding fault with Muhammad
- speculating about how Muhammad would behave if he were alive
- drawing a picture to represent Muhammad
- whistling during prayers
- flouting the rules prescribed for Ramadan
- reciting Muslim prayers in a language other than Arabic
- consuming alcohol
- gambling
- being alone with persons of the opposite sex who are not blood relatives
- finding amusement in Islamic customs
- publishing an unofficial translation of the Qur'an
- practicing yoga
- watching a film or listening to music
- wearing make-up on television
- insulting religious scholarship
- wearing the clothing of Jews or of Zoroastrians
- participating in non-Islamic religious festivals
- converting from Islam to Christianity
This crime is, in many cases, punishable by death. In other words, you are no longer living in America.
.
——————————————————————————————————————————–
.
Jay Carney: It's 'Self-Evident' That Lying Liar Holder's Lie Is Totally True – Canada Free Press
It takes a special kind of skill to do Jay Carney's job, at least the way Jay Carney does it. The rule of modern-day politics is that you never concede anything the other side says, no matter how absurd the claim you have to make. That means you've got to twist yourself into some pretty contorted pretzels sometimes, but that's the rule and you have to follow the rule.
One staple of the rule, of course, is that you can never – under any circumstances – admit that someone on your team lied, especially when it's about something serious like taking a buzz saw to freedom of the press. So when someone on your side actually does lie, you've sometimes got to go through some pretty wild machinations to make the case that he didn't. Not easy, but hey, lying craftily is why they pay Jay Carney the big bucks.
What do you do, though, when faced with a lie like Eric Holder's lie – the one where he never knew anything about possibly prosecuting a member of the press for disclosure of information, even though he himself signed a warrant against a member of the press and used the possible prosecution of the reporter as justification for doing so.
That's not just an arguable lie. That's a lie. That's an I-didn't-take-any-cookies-oh-you've-got-video-of-me-taking-cookies-OK-you-got-me lie. That's what that is. How do you claim that's not a lie? You can't use logic. You can't say, "Oh look, a squirrel!" You have to be completely absurd. So if that's what you have to do, you might as well embrace it for all its worth. You don't just claim the lie isn't a lie. You claim it is self-evidently not a lie. Hey. Might as well. If you have to go over the cliff, you might as well run fast.
"It seems self-evident that that charge is inaccurate," White House spokesman Jay Carney told reporters. "Based on the published reports that I have seen, I have seen no conflict between what the attorney general said and published reports."
The "published reports" refers to NBC's report that it was Holder who signed off on the warrant against Rosen. How can that not be a lie? It can't. It's a simple, straightforward impossibility. So Carney tells another lie to cover it up:
"Clearly what the attorney general said is accurate," he said.

Carney said that media reports indicate that no prosecution of Rosen is being contemplated, and that therefore Holder's statement regarding potential prosecution is correct.

"I think based on what you said, he testified truthfully," Carney said after the Holder quote was read aloud by a reporter. "You guys are conflating the subpoena with prosecution."
Now granted, Carney's lie is a lie of implication, but that doesn't make it any less dishonest. By emphasizing that no prosecution of Rosen is under current consideration, Carney tries to change the story to be about the here and now. But it's not about the here and now. The warrant was issued in 2009, based on the administration's claim at that time that Rosen might be a criminal co-conspirator in a leak case. That means that the potential for prosecution was either a) real; or b) presented to the judge as real as justification for the warrant, if it there really was no such consideration, then that's another lie.
Whatever is being considered or not considered now is completely irrelevant. Holder lied when he said he knew nothing about potential prosecution of a journalist for disclosure of information. Carney lied to try to cover up Holder's lie.
This whole administration is nothing but a bunch of liars.
.