Proposed Budget Will Reportedly Shrink Army To Pre-WWII Numbers – Fox News
.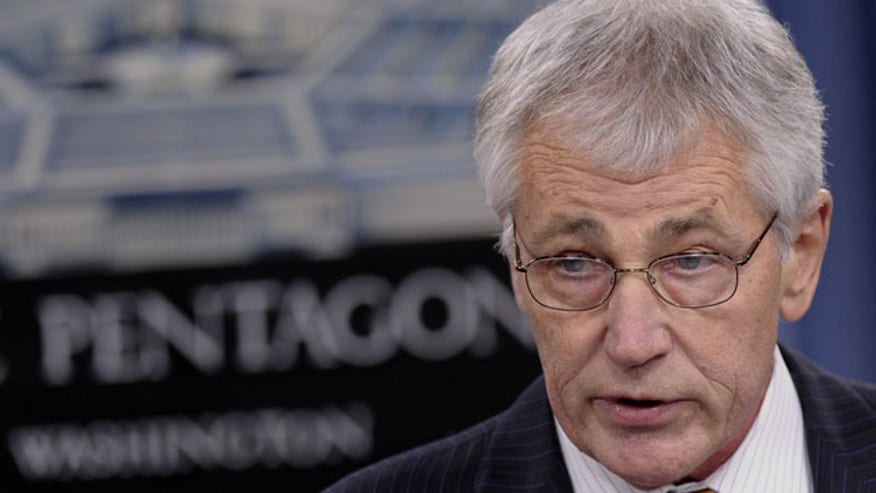 .
Defense Secretary Chuck Hagel will reportedly propose a Pentagon budget that will shrink the U.S. Army to its smallest number since 1940 and eliminate an entire class of Air Force attack jets.
The New York Times reported late Sunday that Hagel's proposal, which will be released to lawmakers and the public on Monday, will call for a reduction in size of the military that will leave it capable of waging war, but unable to carry out protracted occupations of foreign territory, as in Afghanistan and Iraq.
Under Hagel's plan, the number of troops in the Army will drop to between 440,000 and 450,000, a reduction of at least 120,000 soldiers from its post-Sept.11 peak.
Officials told the Times that Hagel's plan has been endorsed by the Joint Chiefs of Staff and protects funding for Special Operations forces and cyberwarfare. It also calls for the Navy to maintain all eleven of its aircraft carriers currently in operation. However, the budget proposal mandates the elimination of the entire fleet of Air Force A-10 attack aircraft, as well as the retiring of the U-2 spy plane, a stalwart of Cold War operations.
The budget plan does keep money for the F-35 warplane, a project which has been beset by delays and criticism over design flaws.
Other characteristics of the budget will likely draw further ire from veterans groups and members of Congress. The Wall Street Journal reported Friday that Hagel would recommend a limit on military pay raises, higher fees for health-care benefits, less generous housing allowances, and a one-year freeze on raises for top military brass.
"Personnel costs reflect some 50% of the Pentagon budget and cannot be exempted in the context of the significant cuts the department is facing," Defense Department spokesman Adm. John Kirby told the Journal. "Secretary Hagel has been clear that, while we do not want to, we ultimately must slow the growth of military pay and compensation."
"This is a real uphill battle with Congress," Mieke Eoyang, director of the National Security Program at Third Way, a centrist think tank in Washington, told the Journal
"God bless [Hagel] for trying to get a handle on these costs," she said. "But in this political environment, in an election year, it's going to be hard for members of Congress to accept anything that's viewed as taking benefits away from troops."
.
————————————————————————————————————————
.
Related video:
.

.