Posts Tagged 'Create'
July 11, 2013
Report: Energy Department Sitting On Billions Of Dollars In Natural Gas Projects – Washington Free Beacon
The United States could add thousands of jobs and billions of dollars in economic activity by speeding up approval of the 20 remaining liquefied natural gas (LNG) export terminals currently being reviewed by the Energy Department, according to a report released Thursday.
.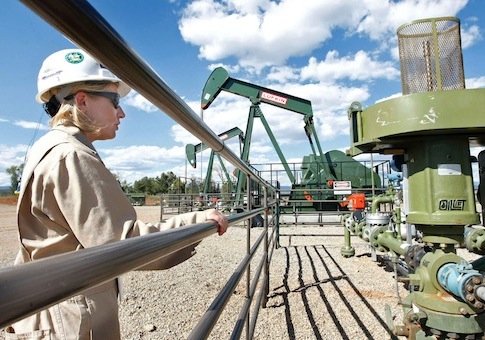 A report by American Council for Capital Formation estimated LNG exports would create up to 452,300 jobs between 2016 and 2035. Over the same period, the United States could add between $15. 6 billion and $73.6 billion annually to the gross domestic product.
"Each project can take five years or more to move from approval to export flow," the report stated. "Without a faster approval process, it is unlikely that the United States will achieve the economic and job growth benefits that would arise from the higher production of natural gas since other countries may gain market share at our expense."
The advent of hydraulic fracturing, commonly called "fracking," has opened up huge natural gas deposits in the United States, and the country now has the potential to become a net exporter of natural gas by 2016, according to energy forecasts.
Energy Secretary Ernest Moniz, speaking earlier this year at a congressional hearing, said the department "will expeditiously work through the remaining applications… reviewing each one on a case-by-case basis to ensure that all approvals are in the public interest."
Moniz said there would "absolutely" be decisions on the export terminals sometime this year.
However, increased natural gas exports have been opposed by environmental groups, who argue the long-term environmental impacts are still unclear, and manufacturers, who fear spikes in energy prices.
The ACCF report argues exports will allow the free market to determine prices and accomplish the Obama administration's energy goals.
"The administration has an opportunity to advance the president's goal to double exports within five years by utilizing one of our most vital and plentiful natural resources in a manner that carries comprehensive benefits for our economy both today and far into the future," the report reads "DOE should allow free markets to determine how much LNG is exported and allow free trade of this valuable resource to aid our recovering economy. From corn to cars to wheat, exports have proven to be a net positive boost for the U.S. economy and LNG exports shouldn't be treated differently."
The Energy Department declined to comment on the report and directed the Washington Free Beacon to Moniz' earlier statements.
.
December 13, 2012
Scientists Create Brain Cells From Human Urine – Yahoo News
A new scientific study claims that human urine can be converted into brain cells. And the surprising discovery may extend beyond practical applications, allowing a way to circumvent the controversial debate over stem cell research.
………………
The study, published online in Nature Methods and conducted by a team led by Chinese stem-cell biologist Duanqing Pei, found that cells generated from human waste might someday be used to study disease and even in therapeutic treatments for neurodegenerative diseases.
Plus, there's a potential added bonus to the discovery: Embryonic stem cells possess a high risk of developing tumors, which reportedly would not be an issue with cells taken from the urine samples.
The process works by transforming cells present in the urine into precursors of brain cells, known as neural progenitor cells. The study says the cells found in urine are a "much more accessible source" than cells found in skin and blood samples.
"This could definitely speed things up," James Ellis, a medical geneticist at Toronto's Hospital for Sick Children in Ontario, Canada, told Nature.