.
'Human Sacrifice' Ceremony At Geneva's CERN Laboratory Investigated By Chiefs At Famous Science Center – Daily Mail
The European Organization for Nuclear Research (CERN) has launched an investigation into a video filmed at night on its Geneva campus depicting a mock ritual human sacrifice, a spokeswoman said Wednesday.
The bizarre video which has circulated online for days shows several individuals in black cloaks gathering in a main square at Europe's top physics lab, in what appears to be a re-enactment of an occult ceremony.
The video includes the staged 'stabbing' of a woman.
'These scenes were filmed on our premises, but without official permission or knowledge,' a CERN spokeswoman told AFP in an email.
'CERN does not condone this type of spoof, which can give rise to misunderstandings about the scientific nature of our work,' she added.
The 'investigation' under way was an 'internal matter', she said.
The video has raised questions about security on CERN's campus.
Asked to detail the security procedures surrounding access to the campus, the CERN spokeswoman said: 'CERN IDs are checked systematically at each entry to the CERN site whether it is night or day.'
She further indicated that those responsible for the prank had access badges.
'CERN welcomes every year thousands of scientific users from all over the world and sometimes some of them let their humour go too far. This is what happened on this occasion,' the email said…
MORE
.
—————————————————————————————
.
Mexican President Backs Down, Will Meet With 'Hitler' Donald Trump – Breitbart
.

.
Mexican President Enrique Peña Nieto said Tuesday that he is willing to meet with Republican presidential nominee Donald Trump – whom he earlier likened to Adolf Hitler and Benito Mussolini.
Reuters reports that Peña Nieto confirmed that he would meet with Trump during a pre-taped television interview in Mexico on Tuesday evening: "Yes, I would meet with him… I have never met him. I can't agree with some of the things he has said, but I will be absolutely respectful and will seek to work with whomever becomes the next president of the United States."
In an interview in March with a Mexican newspaper, Peño Nieta had accused Trump of using the same kind of populism that brought Hitler and Mussolini to power. In June, at a summit in Canada, Peña Nieto backtracked somewhat, saying that he had not intended to say that Trump is like those dictators, only that his populist style and policies would have the same result…
MORE
.
—————————————————————————————
.
Leftist Dr. Drew Pinsky Says He Is "Gravely Concerned" About Hillary's Health – Zero Hedge
Board-certified medicine specialist and TV personality Dr. Drew Pinsky has come out and said that he is "gravely concerned" about presidential candidate Hillary Clinton's health, pointing out that treatment she is receiving could be the result of her bizarre behaviors.
Appearing on KABC's McIntyre in the Morning, Pinsky said he and his colleague Dr. Robert Huizenga became "gravely concerned… not just about her health but her health care," after analyzing what medical records on Hillary had been released.
Pinsky pointed out that after Clinton fainted and fell in late 2012, she suffered from a "transverse sinus thrombosis," an "exceedingly rare clot" that "virtually guarantees somebody has something wrong with their coagulation system."
"What's wrong with her coagulation system, has that been evaluated?" asked Dr. Drew.
Dr. Drew, known as "America's most trusted physician," added that the "weird" medication Clinton has been receiving could be exacerbating her health problems.
"So the very medicine doctors are using may be causing this problem and they're using an old fashioned medicine to treat it – what is going on with her health care?" asked Pinsky.
Pinsky described the situation as "bizarre," and said that Hillary's medical condition was "dangerous" and "concerning".
Dr. Drew also went on to add that it was a sign of "brain damage" when Hillary had to wear prism glasses after her fall…
MORE
.
—————————————————————————————
.
Hundreds Of Trump Supporters Turn Out To Protest Vice President Biden In Serbia – International Business Times
.

.
U.S. vice president Joe Biden has been greeted by a rally of hundreds of Donald Trump supporters during a visit to Serbia.
Hundreds of members of the Serbian Radical Party marched in the streets during Biden's visit to Belgrade, holding placards that read 'vote Trump' and chanting 'Donald Trump, Donald Trump'.
The demonstration was intended to be timed with Biden's stay in the capital, as the vice president is seen by many in Serbia as representing unwanted US involvement in the country – something demonstrators said would not happen under GOP presidential nominee Trump.
Radical Party leader Vojislav Seselj told Reuters at the rally: "Trump is the alternative to globalisation because he will destroy old centres of power in the United States, and he is a supporter of Russia because he wants an agreement with Russia…
MORE
.
—————————————————————————————
.
Air Force Officer Faces Investigation Over Bible On His Desk – Fox News
The Military Religious Freedom Foundation is demanding an Air Force major be "aggressively punished" for having an open Bible on his desk at Peterson Air Force Base in Colorado Springs, Colo.
"It [the Bible] is very obviously a statement of Christian preference, Christian primacy," MRFF founder Mikey Weinstein told me. "Had that been the Book of Satan or the Koran there would be blood in the freaking streets."
He accused Maj. Steve Lewis, a supervisor at the Reserve National Security Space Institute, of "harboring and encouraging a truly abhorrent example of First Amendment civil rights violations."
Mr. Weinstein is a fussy little fellow, isn't he?
Col. Damon Feltman, the commander of the 310th Space Wing, told me they are reviewing the incident involving the Good Book.
"He has removed the Bible voluntarily because he didn't want this to cause attention or disruption to his unit," Col. Feltman said. "I've performed a walk-through of the office and everything seemed to be in compliance with Air Force regulation."
So when will Maj. Lewis be able to return the Bible to his desk?
"I'm waiting on the unit commander's review of the situation before making a final assessment," the colonel said.
He stressed that Air Force personnel are free to exercise their constitutional rights to practice their own religion "as long as it is respectful of other individual's rights to follow their own belief system in ways that support good order and discipline and don't detract from (the) military mission."…
MORE
.
—————————————————————————————
.
Leaked Board Documents: Soros Organization Tried To Buy Supreme Court Ruling On Illegal Immigration – Daily Caller
.

.
Open Society Foundations, Hungarian-born billionaire George Soros' stated vehicle for progressive social change, orchestrated a well-funded attempt to secure a desired outcome in a U.S. Supreme Court case on illegal immigration enforcement, according to a newly discovered memo between the organization's top U.S. officials and board members.
The February 2016 memo was among thousands of internal OSF documents released to the public by anonymous hackers whose stated goal is to "shed light on one of the most influential networks operating worldwide." OSF U.S. Programs director Ken Zimmerman and deputy director Andrea Batista Schlesinger co-authored the memo, which is addressed to the 14 advisory board members of the organization's U.S. operations.
Members of the advisory board include Soros family members, left-wing activists, Ivy League professors and columnists for The Washington Post and Foreign Policy magazine…
MORE
.
—————————————————————————————
.
$6.5 Trillion Missing From Defense Department – WorldNetDaily
A relatively obscure audit report from the Office of Inspector General of the United States Department of Defense suddenly is getting a lot of attention for what it apparently reveals: The Pentagon can't account for $6.5 trillion.
At ArmstrongEconomics, the blog reported, "Once again, the office of inspector general has come up with a huge hole in the Department of Defense with a missing $6.5 trillion."
The day before 9/11, Defense Secretary Donald Rumsfeld admitted $2.3 trillion was missing from the Defense Department budget, noted the blog.
That figure has now grown to $6.5 trillion and counting.
To get a handle on its magnitude, a pile of $100 bills in that amount would be enough to make every man, woman and child in the states of Colorado, Wyoming and South Dakota an instant millionaire.
The report, "Army General Fund Adjustments Not Adequately Documented or Supported," started out with the goal of finding out whether the changes in the Army General Fund data during Fiscal Year 2015 to financial statements were "adequately documented and supported."
Whether the economy is up or down, Dave Ramsey's "Total Money Makeover" is a proven plan for financial fitness
The report concluded "the office of the assistant secretary of the army (Financial Management & Comptroller) (OASA[FM&C]) and the Defense Finance and Accounting Service Indianapolis (DFAS Indianapolis) did not adequately support $2.8 trillion in third quarter journal voucher (JV) adjustments and $6.5 trillion in yearend JV adjustments occurred because OASA(FM&C) and DFAS Indianapolis did not prioritize correcting the system deficiencies that caused errors resulting in JV adjustments, and did not provide sufficient guidance for supporting system-generated adjustments."…
MORE
.
—————————————————————————————
.
Poll: Vast Majority Believe Hillary Should Be Disqualified From Receiving Intelligence Briefings – TruthFeed
.

.
Lou Dobbs created a online poll to gauge how people on social media feel about Crooked Hillary receiving security briefings.
The outcome is quite stunning, with 6,287 responses, 95% believe Clinton's reckless handling of classified documents should DISQUALIFY her from receiving intelligence briefings.
So… if she should not even be able to receive intel briefings how the heck could she actually be PRESIDENT???
We are living in an upside down world right now. Hopefully America will WAKE UP before it is too late…
MORE
.
—————————————————————————————
.
Milwaukee Shooting Completely Justified: 'Victim' At Fault – Fury News
The verdict is in concerning the Milwaukee Police shooting of Sylville Smith. Body cams on the officers involved show a clear case of the suspect aiming a gun at the officers and refusing to drop it.
Mayor Barrett said in regards to the footage, "I want our community to know that." He also called for understanding for the Smith family. "A young man lost his life yesterday afternoon, and no matter what the circumstances are, his family has to be hurting." At the news conference, it was also confirmed that the officer who shot Smith was African-American, as well.
Black Lives Matter groups as well as the NAACP and many others including the Majority of Democrats and Liberals were all screaming for body-cams on ALL officers. Well, they got them and those very cameras are doing exactly what we all knew they would. They are proving that these shootings are in fact justified.
Did that stop these ignorant groups from rioting and burning down parts of cities? Nope! They do it anyway. The death of these criminals during crimes is NOT the actual reason for these riots, the rioters simply needed to find something that would make it appear as if their outrage was justified.
Guess what? It is NOT justified. None of the actions taken to date by 'protesters' has been because EVERY single shooting that they are protesting has been found to be justified in one way or another. They don't protest when a 9-year-old black girl is shot in her room while doing homework, no , only when a career criminal trying to kill a cop gets shot by that cop! Come on America, it's time to wake up. All of us, everywhere need to stop falling into the Democratic bait-traps!…
MORE
.
—————————————————————————————
.
All Clinton Emails Recovered By FBI To Be Turned Over To Judicial Watch – Judicial Watch
.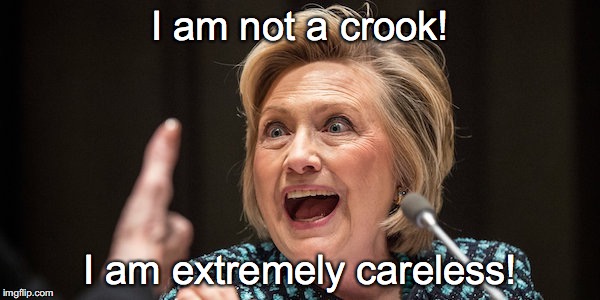 .
Judicial Watch today announced that the State Department has agreed to produce to Judicial Watch all emails sent or received by former Secretary of State Hillary Clinton that were uncovered by the FBI in its investigation of Clinton and her use of the clintonemail.com system:
[T]he FBI completed its transmission to the State Department of documents recovered by the FBI in the course of its investigation in connection with former Secretary of State Hillary Clinton's use of a personal e-mail system during her time as Secretary of State. State has voluntarily agreed to produce non-exempt agency records responsive to plaintiff's FOIA request contained in the information transmitted.
The records will be produced in connection with a Freedom of Information Act (FOIA) lawsuit before District Court Judge James E. Boasberg specifically seeking all of Clinton's emails (Judicial Watch, Inc. v. U.S. Department of State (No. 1:15-cv-00687))…
MORE
.
—————————————————————————————
.
First Elected Somali In Minnesota Legislature Married Her Own Brother – Front Page
Are you feeling enriched by our newfound diversity yet?
Somali Ilhan Omar defeated 22-term incumbent Phyllis Kahn for the nomination of the DFL to serve as the representative of House District 60B in the state legislature. Omar came in first in a three-way primary race for the nomination in Tuesday's primary. When elected, Omar will be the first Somali to serve in the Minnesota legislature.
As Scott Johnson at Powerline notes though, Omar has a very interesting background.
A reader has written us to point out that the Somali website Somalispot posted information last week suggesting Omar's involvement in marriage and immigration fraud. The post notes that Omar married Ahmed Hirsi in 2002. Hirsi is the father of Omar's three children. Omar is depicted with Hirsi and their children on Omar's campaign website here.
The post further notes that Omar married her brother Ahmed Nur Said Elmi in 2009, implying that the latter marriage assisted his entry into the United States. Her brother was a British citizen. "As soon as Ilhan Omar married him," the post continues, "he started university at her [a]lma mater North Dakota State University where he graduated in 2012. Shortly thereafter, he moved to Minneapolis where he was living in a public housing complex and was later evicted. He then returned to the United Kingdom where he now lives."
Don't worry. The campaign has a great Hillaryesque response.
""There are people who do not want an East African, Muslim woman elected to office and who will follow Donald Trump's playbook to prevent it. Ilhan Omar's campaign sees your superfluous contentions as one more in a series of attempts to discredit her candidacy"…
MORE
.
—————————————————————————————
.
Al Gore Blames Deadly Louisiana Floods On ManBearPig – Daily Caller
.

.
Former Vice President Al Gore told a group of environmentalists the recent heavy downpours and flooding in places like Houston and Louisiana are made worse by man-made global warming.
"Texas has really been hit hard by the climate crisis and, for the last 35 years, has had more billion-dollar-plus climate disasters than any other state," Gore said said at an event held Tuesday by his activist group, The Climate Reality Project. "Houston in particular has been hard hit."
Thousands of Louisianans have been hit hard by extreme flooding in the southern part of the state, wrecking 40,000 homes and killing 11 people. Some 30,000 people have been rescued from the flooding that was brought about by days of torrential rain…
MORE
.
—————————————————————————————
.
Obama Releases 15 More Gitmo Terrorists In Largest Transfer Of Presidency – Washington Free Beacon
The U.S. approved the release of 15 detainees from the Guantanamo Bay military prison to the United Arab Emirates on Monday evening, marking the single largest transfer under the Obama administration.
The Pentagon said the transfer of 12 Yemenis and three Afghans from the U.S. facility in Cuba drops the total number of remaining detainees to 61-nearly four times lower than when President Obama first took office. In 2009, there were 242 men imprisoned at Guantanamo.
Obama reiterated his aim earlier this year to close down Guantanamo Bay by the end of his presidency, calling the prison "contrary" to U.S. values and a recruitment tool for terrorists.
U.S. law bars the transfer of Guantanamo detainees to American soil, which a bipartisan majority in Congress supports keeping in place, although the Obama administration is hoping lawmakers change their minds. Obama, Vice President Joe Biden, and Secretary of State John Kerry have to negotiate with foreign leaders to resettle or repatriate the detainees.
Republican Rep. Ed Royce, who chairs the House Foreign Affairs Committee, told the Wall Street Journal that the "cajoling and arm-twisting to get countries to accept these terrorists" is at times "pushing detainees on countries that can't handle them."
"Once again, hardened terrorists are being released to foreign countries where they will be a threat," Royce said in a statement.
Sen. Kelly Ayotte (R., N.H.) released an unclassified Pentagon report last week detailing the extremist backgrounds of more than 100 detainees held or recently transferred from Guantanamo Bay…
MORE
.
—————————————————————————————
.
Soros Hack Reveals Plot Behind Europe's Refugee Crisis; Media Manipulation; Cash For "Social Justice" – Zero Hedge
.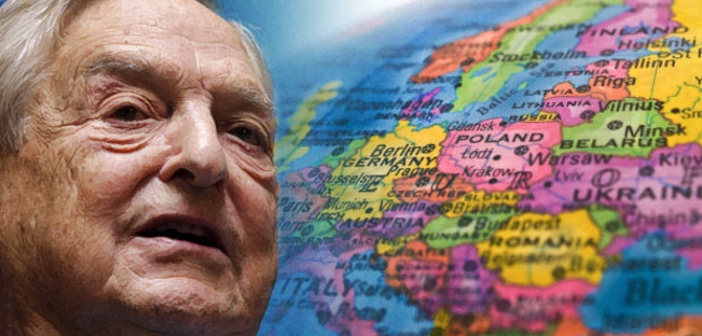 .
In the two days since the Soros Open Society Foundation hack by the DCLeaks collective, several notable revelations have emerged among the data dump of over 2,500 documents exposing the internal strategy of the organization, which expose some of Soros' tactics to influence and benefit from Europe's refugee crisis, the opportunistic funding and influence of media organizations, providing cash for assorted "pro-democracy" groups including the infamous La Raza, Soros' funding of various "social justice" organizations while paying to track unfavorable media coverage including that of Pamela Geller.
One particular leaked memo, profiled earlier by the Daily Caller, argues that Europe's refugee crisis should be accepted as a "new normal," and that the refugee crisis means "new opportunities" for Soros' organization to influence immigration policies on a global scale. OSF program officer Anna Crowley and program specialist Katin Rosin co-authored the May 12 memo, titled "Migration Governance and Enforcement Portfolio Review."…
MORE
.
—————————————————————————————
.
Wonkette: Bill Clinton Raping A Woman Doesn't Make Him Evil – Downtrend
Liberals are struggling with many things wrong with Hillary Clinton: her lies, her flip-flops, her scandals, her lawlessness, etc… but nothing is more troubling to the left, especially the female left, than Hillary's serial rapist husband Bill. In easily one of the worst apology pieces ever, the editor and owner of Wonkette says yes, Bill is a rapist, but that doesn't make him a bad guy or even a bad feminist. I guess as long as you are a democrat, you can stab puppies in the head and light nuns on fire and it's all good.
To bring you up to speed on this piece, In the Spring of 1978, then Attorney General of Arkansas Bill Clinton invited himself to the hotel room of Juanita Broaddrick, a volunteer helping him run for governor of the state. He forced himself on her sexually, with her trying to fight him off. He proceeded to brutally rape her, ripping her clothes off and biting her lip during the attack. After the rape he told her not to worry because childhood mumps had left him sterile. This was 2 years before his daughter Chelsea was born.
With renewed interest in Bill's rapey ways, Wonkette editor Rebecca Schoenkopf shared some random thoughts on this. First, some excusing of boys just being boys:
I can absolutely see Bill Clinton doing this (then, not now) and not even thinking of it as rape, but thinking of it as dominant, alpha sex. I can see a LOT of men doing that during that time period, before we started telling them in the '80s, "hey, that is rape, do not do that." I can see YOUR NICE GRANDPA doing that, back then.
The late 70's wasn't the stone ages. Rape was actually rape back then, especially a violent attack like Bill delivered on this poor woman…
MORE
.
—————————————————————————————
.
Chairmen Of House Committees Lay Out Case For Perjury Charges Against Hillary To U.S. Attorney – TruthFeed
.

.
Hillary Rodham Clinton, the Democratic nominee for president of the United States, may have committed perjury in testimony before Congress, two separate U.S. House committee chairmen detailed late Monday.
In a letter from House Committee on Oversight and Government Reform chairman Rep. Jason Chaffetz (R-UT) and House Judiciary Committee chairman Rep. Bob Goodlatte (R-VA) to U.S. Attorney for the District of Columbia Channing Phillips, the two top House Republicans made their case that Clinton committed perjury.
Chaffetz and Goodlatte wrote to Phillips:
On August 2, 2016, Assistant Attorney General Peter Kadzik confirmed that you received the Committees' request for an investigation regarding certain statements made by former Secretary of State Hillary Clinton during her testimony before Congress and will 'take appropriate action as necessary…
MORE
.
—————————————————————————————
.
Trump Was Right: FOIA Document Shows Obama And Hillary Knew Their Actions Would Create ISIS – Gateway Pundit
A declassified and released FOIA document from 2012 shows that Obama and Hillary knew their actions would destabilize eastern Syrian and allow a Salafist principality to take hold of the region.
Judicial Watch released this 2012 document in 2015 after a FOIA request.
Russia Insider reported:
The latest "OMG, Trump said that!" moment is The Donald's claim that Barack Obama and Hillary Clinton are, correspondingly, the "founder" and "cofounder" of ISIS. True to form, the media reaction has been to shriek in outrage that he would cast aspersions on such august personages.
As of this writing, not one American media source of which this writer is aware has brought up in relation to Trump's claims the August 2012 report (declassified and released in 2015 under a FOIA request from Judicial Watch) from the Defense Intelligence Agency (DIA) stating that "there is the possibility of establishing a declared or undeclared Salafist principality in Eastern Syria, and this is exactly what the supporting powers to the opposition want, in order to isolate the Syrian regime.".
The "supporting powers" are identified as "western countries" (no doubt including and led by the United States), "the Gulf States" (presumably including and led by Saudi Arabia), and "Turkey" (just Turkey).
In August 2012 the Secretary of State at the time was one Hillary Rodham Clinton. The President was and still is one Barack Hussein Obama.
The DIA report said, in essence, that if we (the U.S. and our local cronies) keep aiding al-Qaeda, the Muslim Brotherhood, and other such sterling democrats, something really nasty would arise in eastern Syria. Several months later, it did, when ISIS declared itself a state straddling the Syria-Iraq border…
MORE
.
—————————————————————————————
.
Clinton-Connected Pennsylvania AG Found Guilty Of 9 Felonies – Washington Free Beacon
.

.
A jury on Monday night found Pennsylvania's Democratic attorney general Kathleen Kane guilty on nine felony counts stemming from her attempt to leak confidential information aimed at embarrassing Republican political rivals.
Kane, who became a rising political star thanks to support from Bill and Hillary Clinton, has been asked to resign by Pennsylvania Gov. Tom Wolf (D.), and prosecutors say they are considering recommending prison time for Kane.
"I implore Attorney General Kane to do what is right: Put the commonwealth's residents first and step down," Wolf said.
The judge, cognizant of Kane's history of seeking revenge against political foes, allowed Kane to remain free without bail but warned her that any attempt to retaliate against individuals that testified would result in Kane being "incarcerated immediately."…
MORE
.
—————————————————————————————
.
Sister Of Milwaukee Thug Killed By Police Urges Crowd To Torch Suburbs – Washington Times
The sister of a Milwaukee man fatally shot by police over the weekend told a group Sunday that they should burn the suburbs down.
Sylville K. Smith was shot in the chest and arm by a black police officer on Saturday, which prompted violent protests, looting, and arson. One of Mr. Smith's sisters, Sherelle, was caught on video at the charred remains of a BP gas station telling a crowd to set the suburbs ablaze.
"You're burning down shit we need in our community. Take that shit to the suburbs! Burn that shit down!" she screamed in video shared by a Twitter user identified as DeeconX. The story was then picked up by news aggregator website Weasel Zippers.
.

.
Mr. Smith's other sister, Kimberly Neal, told the same crowd that violence was not the answer.
"At the end of the day, acting out ain't gonna solve it," she said, a local Fox News affiliate reported. "We tired of it. We tired."
Four officers were injured Saturday night and 17 people were arrested.
MORE
.
—————————————————————————————
.
Aetna To Pull Out Of Most Obamacare Exchanges – CNN
.

.
In the latest blow to Obamacare, Aetna is vastly reducing its presence on the individual exchanges in 2017.
The insurer will stop offering policies on the exchanges in 11 of the 15 states where it currently operates, according to a press release it issued Monday evening. Aetna (AET) will only sell Obamacare products in Delaware, Iowa, Nebraska and Virginia.
Aetna said earlier this month that it was halting its exchange expansion plans for 2017 and reviewing its participation in President Obama's signature health reform program. The company noted Monday that it has lost $430 million in its individual policies unit since the exchanges opened in January 2014.
Aetna, which had 838,000 exchange customers at the end of June, said its policyholders are turning out to be sicker and costlier than expected…
MORE
.
—————————————————————————————
.
Obama Regime Hides $25 Million In Payments To Lawyers Suing Under Environmental Laws – Daily Caller
Groups concealed by the government have raked in $25 million in legal fees from federal agencies through lawsuits under three environmental laws since 2009, a Daily Caller News Foundation analysis found.
The Department of Treasury's Judgment Fund database tracks how much federal agencies have paid out for lawsuits and court settlements, but doesn't track the names of the individuals or groups that are actually suing the government.
More than $49 million in taxpayer funds was paid to lawyers suing the Obama administration under three major environmental statutes, TheDCNF found. Environmental activists have gotten millions from taxpayers suing the government to expand federal regulation.
But further analysis revealed that more than half of those payments went to groups the federal government concealed.
Treasury isn't keeping complete data on law firms, and activist groups getting taxpayer dollars has transparency advocates worried. The department also frequently redacts names of attorneys getting tax dollars under the Privacy Act, according to an attorney with the Judgement Fund.
"It's no surprise the Treasury Department is hiding who gets the money in these transactions," Adam Andrzejewski, Founder and CEO of transparency group OpenTheBooks.com, told TheDCNF. "Because these suits involve the federal government, taxpayers have a right to know where their tax dollars are going and what agendas they're advancing."…