.
Obama Regime Paid Another $1.3 Billion To Iran; Can't Say Exactly Who Got The Money – Washington Times
The State Department confirmed Monday that the Obama administration has paid Iran another $1.3 billion to settle a failed arms deal from 1979, but couldn't describe who in the Iran government it paid, and couldn't say what form that payment took – cash, check or otherwise.
The State Department also admitted it can't guarantee that the Iran Revolutionary Guard Corps wouldn't be able to get its hands on the money eventually.
"We can always hand it over to someone who can hand it over to the IRGC," State Department spokesman Mark Toner told reporters. Many in the U.S. see the IRGC as being responsible for helping to finance terrorism.
The administration agreed to pay Iran $1.7 billion to compensate that country for its payment to the U.S. in 1979 for military equipment. That deal fell through after Iran's government was overthrown, and the Obama administration has said it owes Iran this money, plus interest.
The first installment of the payment was a $400 million cash payment, which has drawn criticism from Republicans. They say it looks like a ransom payment to ensure the release of American hostages who Iran released this year.
When asked how the remaining $1.3 billion was paid, Toner said he didn't know.
"I'll try my best to get details about that," he said. He said the problem there is that the government generally doesn't want to reveal entities that help the U.S. make these payments, since the U.S. has no direct financial relationship with Iran…
MORE
.
—————————————————————————————
.
Huma Abedin Left Classified Material Unsecured In Front Seat Of Her Car – Daily Mail
.

.
Emails released on Monday show that Hillary Clinton's top State Department aide, Huma Abedin, left classified government information that needed to be burned in the front seat of her vehicle.
"Favor" is the subject of Abedin's July 20, 2009 email to Lauren Jiloty, Clinton's personal assistant. Judicial Watch obtained the records and hundreds more pages of Abedin emails as part of its ongoing Freedom of Information Act lawsuit against the State Department.
"I'm going to have ambassador ride on next drive," wrote Abedin. "There's a bunch of burn stuff in the pocket of my front seat."
And seemingly realizing the significance of her error, Abedin asked Jiloty to move the documents to a more secure location…
MORE
.
—————————————————————————————
.
Birthday Boy Brings 363 Pizzas To Louisiana Flood Victims – USA Today
The day before Carson Boutte's 9th birthday Saturday, his mom asked what he wanted as a present.
He said he wanted lunch – but not for himself.
"He said, 'Really, I know all the poor people whose houses flooded… what I would really like to do is bring them lunch,' said his mom, Lanie Boutte. "I suggested sandwiches and chips, and he added cookies."
Later that night, the thought of making maybe 500 lunches herself was overwhelming.
"So my husband suggested pizza," she said. "I said I would spend $100 since that's what I was going to spend on Carson's present. I decided to post it on Facebook in case any of my family wanted to chip in, too."
But by Saturday, her message to her family had traveled much further, and people from throughout Youngsville and nearby Lafayette, La., were volunteering to help. Domino's offered a special rate for the food as long as those who wanted to help mentioned her name and paid for the order ahead of time.
"I had no idea it would blow up," she said. Regional Vice President "John Richards from Domino's matched the first 100 pizzas ordered…
"They were really awesome. Perfect strangers came out to help deliver, and I couldn't believe it," Lanie Boutte said. "It was unbelievable.:
By the end of Carson's birthday, 363 pizzas were served to flood victims, firefighters and police officers.
"Carson's thing in life is that he wants to be a soldier, and he loves anyone in a position like that – cops, firemen," Boutte said…
MORE
.
—————————————————————————————
.
Hillary Supporters Caught On Video Committing Election Fraud In Las Vegas – Gateway Pundit
.

.
Hillary Clinton supporters were recently caught on video committing voter fraud in Las Vegas.
The two Hillary supporters were signing up individuals to vote in the upcoming election while displaying 'Stand Up to Trump' posters with a crazy picture of Donald Trump and what looks like the same Democratic line translated at the bottom of their poster in Spanish.
Individuals who sign people up to vote are expected by law to be non-partisan.
The video was first published on YouTube on August 20th and it shows the type of voter fraud that the Clinton campaign is willing to commit in order to steal the upcoming election.
Recent tweets on the net have identified the Hillary fraudster as Susan Berman who is the President of Impact Research International…
MORE
.
—————————————————————————————
.
Over Last 10 Months, Leftist Judges Have Blocked Deportation Of Nearly 100,000 Illegal Aliens – Fox News
Immigration judges around the country are denying the Department of Homeland Security's attempts to deport illegal immigrants in record numbers, according to a new report.
Over the last 10 months, immigration judges opted against the department's efforts to remove some 96,223 illegal immigrants, including criminals, according to the Transactional Records Access Clearinghouse, a Syracuse University-based nonprofit.
At this rate, TRAC estimates the number of illegal immigrants allowed to remain in the U.S. despite DHS attempts to remove them will surpass last year's breaking number of 106,676. With the court's protection, subjects can often remain indefinitely.
"It's concerning to me that the immigration courts are becoming such a frequently used back-door route to green cards," said Jessica Vaughan, director of Policy Studies for the Center for Immigration Studies, a Washington, DC-based research institute, noting these cases will be nearly 10 percent of the green cards approved in 2016.
"Many of them arrived illegally, and are being awarded legal status simply because they managed to stay a long time and have acquired family members here."
One in four of the illegal immigrants allowed to stay in the country despite DHS efforts to remove them this year is from Mexico, TRAC reported.
Another 44 percent were from the three Central American countries – El Salvador, Guatemala, and Honduras – where vast numbers of unaccompanied minors and women with children have crossed the border to seek asylum…
MORE
.
—————————————————————————————
.
Hungarian Politician Suggests Lining Border Fence With Pigs' Heads To Deter Muslim Refugees – Washington Times
.

.
A member of Hungary's ruling Fidesz party is facing backlash after he suggested the country's southern border fence should be lined with pigs' heads to deter Muslim refugees.
MEP Gyorgy Schopflin made the comment during a Twitter spat with Andrew Stroehlein, the European media director for Human Rights Watch, after he publicly criticized Hungarians for using homemade scarecrows to frighten refugees along the border of neighboring Serbia.
"Refugees are fleeing war and torture, Hungary," Mr. Stroehleintweeted. "Your root vegetable heads will not deter them."
Mr. Schopflin responded to Mr. Stroehlein on Saturday, writing: "Might do so. Human images are haram," referring to forbidden acts under Islam, Reuters reported. "But agree, pig's head would deter more effectively."…
MORE
.
—————————————————————————————
.
Monmouth University Pollster Busted Manipulating Poll Data To Give Hillary Edge Over Trump – Conservative Treehouse
By now most CTH readers are familiar with the more notoriously biased polling manipulators. One of those is Patrick Murray from Monmouth University [@PollsterPatrick on Twitter].
If you want to know where his political affiliations lie, you only need to read his twitter feed. Murray has also been on Fox News with Bill O'Reilly several times selling his polling results to the unwitting audience.
Today, Monmouth via Patrick Murray presents a presidential poll of Ohio voters. The actual raw data (pdf available here – see pg, 6 and 7) showed Donald Trump with a lead in the result; however, Murray changed the data through weighting to show Hillary Clinton with a lead.
"GOUSAAMER114" pointed out the manipulation:
Monmouth just announced that Clinton leads Trump 43-39 in Ohio. But Pollster Patrick actually laid out what he did on pages 6 and 7 of the PDF.
He sampled 402 voters. In the unweighted sample, the split was 33.3R/29.3D/35.6I. With that split, Trump leads Clinton 41-39 in Ohio. But Pollster Patrick re-weighted it to a 29R/33D/37I split. Nothing else was re-weighted.
It's obvious Murray didn't expect to be called out on it – because when confronted with what he did, pollster Patrick Murray flat out lied.
You can do the math yourself and see that no "weighting" was done by "region, age, race, or gender" only by party ID.
Just as a reminder "weighting" is the term used for actually changing the raw data to reflect the "assumptions" the pollster puts into the anticipated turnout of the election…
MORE
.
—————————————————————————————
.
Rep. Chaffetz: FBI's Notes From Hillary Interview Keep Changing – Washington Examiner
.

.
The FBI has handed Congress two copies of notes from its interview with Hillary Clinton about her private email server, but according to the chairman of the House Oversight Committee, the two sets of notes aren't consistent with each other.
"The… thing that is stunning to me, which I found out last night, is the FBI gave us one set of documents. Then we asked them, and they… gave us a second copy in a classified setting. But they're different," said committee Chairman Rep. Jason Chaffetz in a Monday morning interview on MSNBC.
The Utah Republican said he had no explanation, and that he would have to seek one from the FBI. "We have a second set of documents that's now different. You turn them page by page, and they're different. I don't know why that happens," Chaffetz added…
MORE
.
—————————————————————————————
.
Company Hiring 'Gintern' To Travel Around Europe And Drink Gin – Huffington Post
Hand in your notice and collect your P45, because there's an opening available for what might be the best job ever.
A company is looking to pay somebody up to £20,000 to join their business and drink gin for six months.
ILoveGin is a monthly gin and tonic club which helps subscribers (read: hipsters) discover new craft gins and mixers.
The company is looking for a 'Gintern' to while away their days trying new gins and mixers. The lucky so-and-so will also be required to find new brands to work with, travel around Europe visiting distilleries, pair gins and just generally inspire the public with their gin-filled wisdom.
Sadly, it's not a full-time position and only runs for six months – but we're sure that by that time your liver will need a holiday anyway.
The job requires you to visit between one and two new gin companies each week. The rest of the time you'll be able to work remotely from home – or in that trendy coffee shop you've been dying to check out.
"The gintern will get to travel around the UK and parts of Europe discovering new gins to work with and of course sampling them," reads the site.
"The role is flexible so you can work from home but you will need to travel, one day you might be up in Edinburgh tasting a new craft gin, the next going to a launch event in London for a new tonic water."…
MORE
.
—————————————————————————————
.
Court Orders State Department To Speed Up Release Of 14,900 Emails Hillary Failed To Disclose To FBI – New York Daily News
.

.
Nearly 15,000 emails previously not disclosed by Hillary Clinton were unearthed by the FBI as part of its investigation into the Democratic nominee's private server, lawyers for the State Department told a federal judge Monday.
The State Department said it is in the process of reviewing the 14,900 emails, which is nearly 50% more than the 30,000 that Clinton's lawyers had previously provided to the agency.
State Department lawyers told U.S. District Court Judge James E. Boasberg Monday that they expected to release the first batch of the new emails in mid-October, raising the prospect new messages sent or received by Clinton could become public just before November's presidential election…
MORE
.
—————————————————————————————
.
Democrat Governor Of Virginia Restores Voting Rights Of 13,000 Felons – Washington Times
Virginia Gov. Terry McAuliffe announced Monday that he has individually restored the voting rights of 13,000 felons, a move undertaken after the state Supreme Court rescinded a prior executive action that restored the right to vote en masse to more than 200,000 former inmates.
The Democratic governor said individual restoration orders were mailed out to the thousands of people who had had their restored voter registrations cancelled by the state on account of the court ruling. He said additional restorations, which must be done on a case-by-case basis, will be prioritized by the order of the convicted felons' release from prison.
"We will restore first those who have waited the longest," Mr. McAuliffe said in an announcement made at the Civil Rights Memorial in Richmond.
Individuals eager to have their rights restored may also contact the governor's office to request an expedited review.
A voter registration application will be included with each individual restoration order that is mailed out, Mr. McAuliffe said. The names of those who have their rights restored will be published on the 15th of each month.
Republican lawmakers filed a lawsuit in April challenging the governor's order to restore voting rights en masse to convicted felons who have finished their prison or jail sentences as well as any supervised release. They argued that the move violated the state's separation of powers by effectively suspending the Virginia's ban on voting by felons and said that Mr. McAuliffe was ignoring decades of practice that made clear the governor could only restore such rights on a case-by-case basis…
MORE
.
—————————————————————————————
.
Federal Court Blocks Obama's Transgender Directive Nationwide – Breitbart
.

.
A federal judge has ruled in favor of 13 states against President Barack Obama's directive that public schools must allow students and adults to enter whatever bathrooms or showers they choose, a policy imposing transgenderism on the nation's schools.
Title VII of the Civil Rights Act of 1964 forbids any employer from discriminating on the basis of sex. In 1972, Congress added Title IX, requiring all schools receiving federal funds – which includes every public school nationwide – to provide separate facilities of equal quality for both male and female students.
On May 13, 2016, the Obama administration's Department of Education sent a letter to every school system in America, informing them that regulations implementing Title IX require all schools to allow all children and adults to use whichever bathroom and shower facilities they choose to identify with, regardless of whether that gender identity is the same as their biological sex. This corresponded with other federal pronouncements reiterating that all employers are subject to this same requirement under Title VII…
MORE
.
—————————————————————————————
.
Bahrain's Prince Got Audience With Clinton After Donating $32 Million To Her Foundation – Daily Caller
Newly released Department of State documents reveal that the Crown Prince of Bahrain was given an audience with then-Secretary of State Hillary Clinton after he donated $32 million to her foundation.
The documents, released Monday by Judicial Watch, included emails between Clinton Foundation executive Doug Band and former Clinton State Department aide Huma Abedin, which appear to show that Abedin acted as a middleman between Clinton and her foundation's donors.
Band and Abedin's email exchanges show that Bahrain's Crown Prince Salman had to go through the Clinton Foundation in order to set up a meeting with Clinton after the former Secretary of State declined to meet after official requests were made.
The first email, dated June 23, 2009, shows Band interceding on behalf of the Crown Prince, noting he is a "good friend of ours." Abedin replied that same day noting that Salman had asked to see Clinton through "normal channels," but it appears Clinton was not interested. A later email, dated June 25, 2009, from Abedin to Band offers Salman a 10 A.M. meeting with Clinton. Abedin said she "reached out [through] official channels" to secure the meeting.
Salman was a major donor to the Clinton Foundation, having pledged millions to the Clinton Global Initiative through the Crown Prince's International Scholarship Program (CRISP). By 2010, he had given $32 million to the initiative. Additionally, the Kingdom of Bahrain is reported to have given between $50,000 and $100,000 to the Clinton Foundation, while Bahrain Petroleum gave $25,000 to $50,000…
MORE
.
—————————————————————————————
.
'Clinton Death List': 33 Most Intriguing Cases – WorldNetDaily
.

.
When DNC staffer Seth Rich was gunned down near his affluent neighborhood in Washington, D.C., on July 10, theories exploded in the news media about Rich's possible involvement in the WikiLeaks dump of nearly 20,000 Democratic National Committee emails – some of the messages suggesting that the Democratic Party favored nominee Hillary Clinton over Bernie Sanders from the start.
Now reports reveal Brad Bauman, the man hired by Rich's family to end the "conspiracy theories" surrounding the unsolved murder, is a public relations manager with the Pastorum Group and specializes in "crisis communications" for the Democratic Party.
WikiLeaks broke the news on Twitter, tweeting: "Seth Rich's new 'family spokesman' is Brad Bauman, a professional Democrat crisis PR consultant with the Pastorum Group."…
MORE
.
—————————————————————————————
.
Federal Reserve Paper Reveals Another $4 Trillion Needed To Fight Off Recession – Economic Collapse News
Budget deficits, subzero interest rates and money printing are solutions to combat an economic collapse, says a new Federal Reserve paper.
If the United States economy enters another disastrous recession, similar to what happened in 2008 and 2009, then the Federal Reserve may have to ignite a $4 trillion quantitative easing initiatives. This is the suggestion made in a brand new Fed staff working paper, authored by economist David Reifschneider.
The paper makes the case that historically low interest rates, the near $5 trillion balance sheet and the lackluster U.S. economic recovery could actually hinder the central bank's use of conventional monetary policy tools in the event of another recession. In other words, the Fed would have a difficult time employing traditional tools to juice the national economy.
Here is what the Fed paper states:
"In the simulations. QE and forward guidance take 10yr yields down 225-300 bps depending on the starting point for fed funds and whether you do $2 trillion or $4 trillion for QE. But that is not going to work very well if by design fed funds and 10yr yields can't go below zero. And if expected rates are already low then forward guidance does not have much room. Fed official will gave to keep a straight face while saying they we will keep rates at zero… forever.
"What makes it work is that QE and committing to low rates for longer gets the long rate down quickly and this compensates for the inability to take short rates down as far as you would want. In the unconstrained model, the maximum drop in short rates is almost 9 percentage points, almost twice as much as in the constrained model, but the QE/forward guidance lower takes (and keeps) long rates 75bps lower than when the Fed takes rates to zero and stops…
MORE
.
—————————————————————————————
.
Another One Bites The Dust: 5th DNC Staffer Resigns Due To Wikileaks Hack – Fox News
.

.
Another top official has left the Democratic National Committee in the wake of an email hack last month the revealed embarrassing messages.
Jordan Kaplan, the party's national finance director for more than three years, stepped down, becoming the scandal's fifth casualty. The first to go was DNC Chairwoman Debbie Wasserman Schultz.
Kaplan's resignation email, obtained by The Associated Press, makes no mention of the leaked emails. He says he is returning to consulting and in that capacity will continue to manage party fundraisers featuring the Obamas. Kaplan is a longtime Obama supporter, having first worked for him years ago during Obama's Illinois Senate campaign…
MORE
.
—————————————————————————————
.
Child Suicide Bomber Behind "Heinous" Attack At Turkish Wedding That Killed At Least 51 – Zero Hedge
As the death toll from a deadly suicide bombing – which took place late on Saturday at a wedding party in the southern Turkish town of Gaziantep, near the southern border with Syria – rose to 51, with another 69 wounded of whom 17 were critical, Turkey's president Erdogan issued a statement denouncing the "heinous" bombing and saying that IS was "the most likely perpetrator of the Gaziantep attack." This was the deadliest attack in Turkey so far this year.
The remains of a suicide vest were recovered at the site, according to the state-run Anadolu Agency, with president Erdogan later adding that the perpetrator was a child between the ages of 12 and 14 year, whose bomb was remotely or self-detonated.
The bride and groom survived the attack, however the groom did suffer injuries, a local official said, as cited by Reuters. "The celebrations were coming to an end and there was a big explosion among people dancing," 25-year-old Veli Can said, according to Reuters. "There was blood and body parts everywhere."
Taking advantage of the attack to further his domestic agenda, Erdogan said there was "absolutely no difference" between the Islamic State, Kurdish rebels in the southeast of Turkey or Gulen's supporters, saying they are all terrorist organizations. "These bloodthirsty organizations and the powers behind them have neither the will nor power to silence the calls to prayer, lower the flag, divide our motherland and break up our nation," he said, as cited by AP.
Deputy Prime Minister Mehmet Simsek, who is in Gaziantep, said that Ankara would not "yield" to the terrorists…
MORE
.
—————————————————————————————
.
Hillary's Top Aide Was Working As Assistant Editor Of Radical Muslim Journal When It Blamed America For 9/11 – Daily Mail
.

.
Hillary Clinton's top aide Huma Abedin worked at a radical Muslim publication that opposed women's rights and blamed the US for 9/11, it has been revealed.
Abedin, who could become the future White House chief of staff if Hillary wins the election, was assistant editor of the Journal of Muslim Minority Affairs until as late as 2008, NY Post reports.
The aide was at the journal in 2002 when her mother Saleha Mahmood Abedin, who remains editor-in-chief to this day, published an article which appeared to blame the US for bringing the 9/11 terror attacks on itself, according to the Post.
The article stated that the United States' 'spiral of violence' was creating intense 'anger and hostility' while the sanctions and 'injustices' imposed on certain Muslim countries was creating a 'time bomb'…
MORE
.
—————————————————————————————
.
Far-Left Huffington Post Now Calling For Corrupt Clinton Foundation To Be Shut Down – Breitbart
The Huffington Post, one of the world's most trafficked news sites, featured a headline on Sunday calling for the closure of the embattled Clinton Foundation. The left-wing outlet's front page banner linked to a New York Times article, which highlights, among other things, that Bill and Hillary Clinton's billion dollar nonprofit has "accepted tens of millions of dollars from countries that the State Department – before, during and after Mrs. Clinton's time as secretary – criticized for their records on sex discrimination and other human-rights issues."
The Huffington Post is just the latest outlet to acknowledge that the explosive research, found first in Breitbart News Senior Editor-at-Large Peter Schweizer's New York Times bestselling book Clinton Cash, has inspired a massive movement of journalists and political figures – on the left, right, and center – calling on the Clintons to dismantle their problematic nonprofit.
The Times piece shines the spotlight on "a deal involving the sale of American uranium holdings to a Russian state-owned enterprise" – another revelation first revealed in Clinton Cash – "…which involved major Clinton charitable backers from Canada…" as "another example of the foundation intersecting with Mrs. Clinton's official role in the Obama administration."
For weeks, the Democratic presidential candidate has been bombarded with questions about the apparent global nexus of influence peddling involving top aids to Clinton offering preferential treatment to million-dollar Clinton Foundation donors when she was the head of the State Department.
In a staggering sign of vulnerability, Bill Clinton told a room full of the foundation's staff on Thursday that he will resign from the Clinton Foundation board if Hillary Clinton wins the White House in November…
MORE
.
—————————————————————————————
.
Hillary's State Department Responsible For $6B In Contract Mismanagement – Daily Caller
.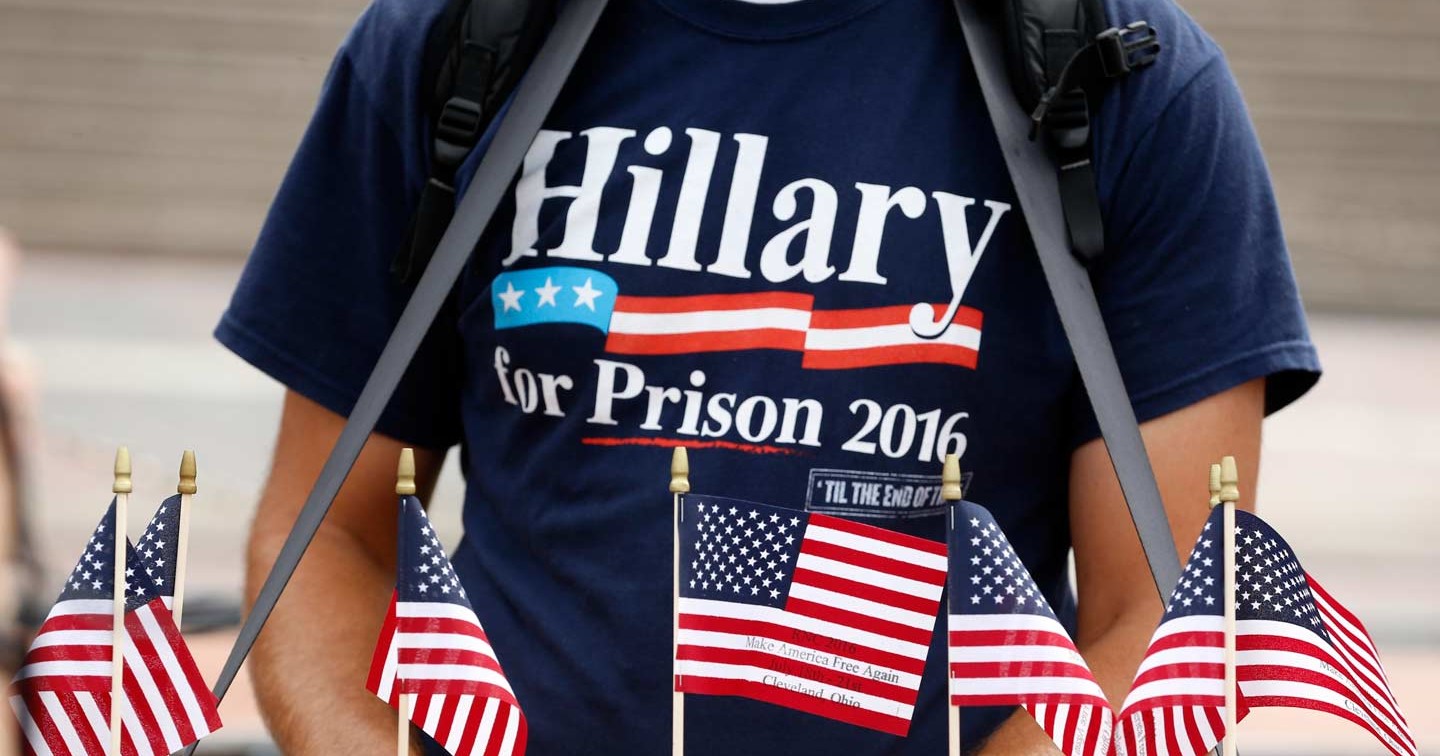 .
Democratic presidential nominee Hillary Clinton may soon have to answer questions about an estimated $6 billion in contract mismanagement, fraud and incompetence that happened under her watch at the Department of State.
Non-profit government watchdog Cause of Action Institute (CofA) filed a Freedom of Information Act request Friday for records related to a March 2014 management alert issued by the department's Inspector General (IG).
"The total value of the contracts the [IG] reviewed exceeded $6 billion," the CofA's FOIA request said. "Many of these cases arose during the tenure of Secretary Hillary Clinton." Clinton was the country's top diplomat from January 2009 to February 2013…
MORE
.
—————————————————————————————
.
U.S.-Mexico Border Agents Stop Thousands Of Middle Eastern Illegals With Forged Papers – Zero Hedge
U.S. Customs and Border Protection agents working with Mexican immigration officials have found thousands of non-Hispanic illegal immigrants crossing Mexico's southern border to make their way to Texas. As Breitbart details, the so-called "extra-continental" immigrants enter countries as far south as Brazil and make their way to the United States, often with forged travel documents.
"The reality is that the vast majority of the people that Mexico encounters [on its southern border] that are extra-continental will eventually end up on our border," a U.S. Customs and Border Protection (CBP) official told Reuters this week. The Reuters article confirmed the Syrian nationals reported at the Mexican border with Laredo last year by Breitbart Texas's Brandon Darby and Ildefonso Ortiz are part of this growing pattern of illegal migration.
Since that time, the federal government has been largely silent on the numbers of what they call "Special Interest Aliens" (SIA) being captured in Texas and other border states. DHS assistant secretary for international affairs Alan Bersin told a House committee in March,
"While many citizens of these countries migrate for economic reasons or because they are fleeing persecution in their home countries, this group may include migrants who are affiliated with foreign terrorist organizations, intelligence agencies, and organized criminal syndicates."
The new information obtained by Reuters shows that 6,342 SIAs were apprehended at Mexico's southern border. That number is up significantly from a 2015 total of 4,261 SIAs. Only 1,831 were reported for all of 2014 when Breitbart Texas' Brandon Darby reported a leaked intelligence document from CBP official showing countries from all over the world were exploiting the porous southern border between the United States and Mexico. Most of those SIA tend to enter the U.S. through Texas…