.
Virginia Democrat Andrew Spieles Busted For Registering 19 Dead People To Vote – Zero Hedge
.

.
Just yesterday we wrote about an FBI investigation into potential voter fraud in the critical swing state of Virginia after it was revealed that 19 dead people had recently been re-registered to vote (see "FBI Investigating More Dead People Voting In The Key Swing State Of Virginia"). While the Washington Post caught wind of the investigation, it was not known who was behind the operation… until now.
Meet, Andrew Spieles, a student at James Madison University, and apparently "Lead Organizer" for HarrisonburgVOTES. According to the Daily News-Record, Spieles confessed to re-registering 19 deceased Virginians to vote in the 2016 election cycle.
While this should come as a surprise to precisely 0 people, Spieles just happens to be Democrat who, accorded to a deleted FaceBook post, apparently recently ran for Caucus Chair of the Virginia Young Democrats…
MORE
.
—————————————————————————————
.
Chinese Man Kills 17 Potential Witnesses To Cover Up Parents' Murder – Your News Wire
A 'socially awkward' Chinese man from southwest China has confessed to killing 17 of his neighbors after killing his own parents in a conflict over money.
The 27-year-old had returned to his hometown village of Yema in China's mountainous Yunnan Province to ask his parents for some money to settle gambling debts.
Canoe News reports:
Cops say Yang Qingpei, 27, argued bitterly with his parents over his finances. The Chengdu Economic Daily reported that the "socially awkward" Yang had racked up massive gambling debts.
Xinhua reported that when his parents refused to bail him out financially, Yang exploded, killing them in a demonic rage.
But the young man apparently feared he would be pegged as the killer.
So cops believe he slaughtered 17 neighbours – including three children – in the tiny village of Yema, in Yunnan province, apparently to eliminate witnesses. Cops have not said what instruments were used to commit the vile deeds.
He was later arrested in Kunming – about 200 kilometres away – just hours after the neighbours' corpses were discovered.
China's dictatorship has been busy playing down the slayings to the point there is almost no coverage at all. One expert told the New York Times that the country's leadership is increasingly cracking down on the press.
"It doesn't have to raise a red flag politically or ideologically for them to censor it," David Bandurski told the Times…
MORE
.
—————————————————————————————
.
Obama-Appointed Judge Lets Internet Giveaway Proceed – WorldnetDaily
.

.
A federal judge in Texas who was appointed by Barack Obama, George C. Hanks Jr., on Friday refused to delay the president's planned giveaway of U.S. oversight of a key piece of the Internet, setting up the transfer when a critical contract expires heading into the weekend.
The states of Arizona, Nevada, Oklahoma and Texas had sued to block the U.S. from giving up oversight of the non-profit Internet Corporation for Assigned Names and Numbers, which maintains databases for Internet domain names, the Internet's phone book.
At the tech site Arstechnica, the concerns about the loss of U.S. control were discounted.
"Remember the projected Y2K bug disaster? The world's computers would supposedly go haywire as the clock ticked to January 1, 2000, thus destroying the world and ensuing widespread panic. Didn't happen…
MORE
.
—————————————————————————————
.
Hackers Target Voting Systems In 20 Different States – Daily Mail
Hackers have tried to access electoral systems in more than 20 states, it is claimed – with officials warning they intend to cause 'confusion and chaos'.
The Department of Homeland Security says criminals – branded 'bad actors' by FBI Director James Comey, who has linked hacking attempts to Russia – have targeted registration databases to find vulnerabilities.
It comes amid allegations that the Russian government is trying to interfere with this year's presidential election.
Databases in Illinois and Arizona were successfully breached in the summer – but officials have stressed that voting and tabulation machines used on Election Day are not accessible online.
A senior DHS security official told NBC News that more than 20 state systems had been targeted, with a lot of the activity caused by 'people poking at the system to see if they are vulnerable'.
The unnamed source continued: 'We are absolutely concerned. The concern is the ability to cause confusion and chaos.'
ABC reports that there have been four breaches – two more than have previously been acknowledged by the U.S. government.
Intelligence sources told NBC News they are in 'no doubt' that the Russian government is trying to influence the election.
On Wednesday, the FBI Director told a House Judiciary Committee hearing in Washington that 'bad actors' were 'poking around' in voter registration systems…
MORE
.
—————————————————————————————
.
Did Hillary's Debate Podium Have A Teleprompter On It? Looks Like It Did – Jookos
.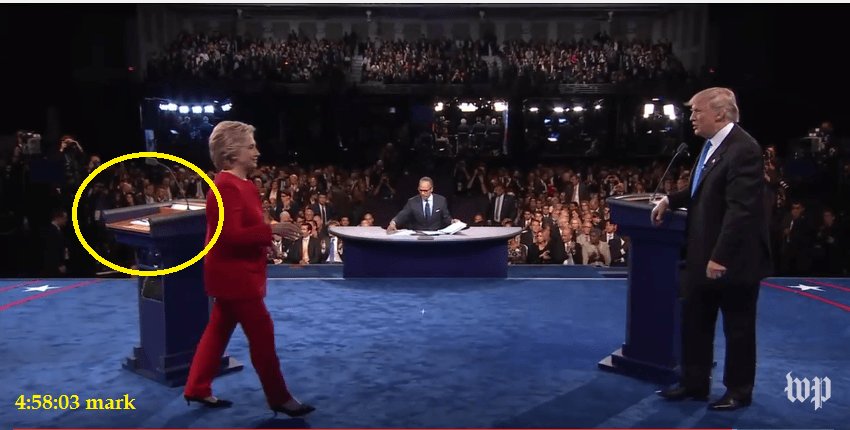 .
In yet another scandal rocking the first Presidential Debate, it has been uncovered Hillary Clinton may have used a teleprompter on her podium during the debate.
Watch as the light completely changes on her podium, despite the lighting in the arena remaining unchanged.
If this is true, Hillary Clinton may have yet again attempted to cheat during the debates for a SECOND time. We've already exposed how she used hand signals to get the debate moderator to help her.
UPDATE: We've been sent some screenshots that breakdown the event, showing some man spending an inordinate amount of time working on Hillary's podium. While no one seems to care about Trumps at all…
MORE
.
—————————————————————————————
.
Bulgaria Bans Burkas, Will Penalize Wearers With Loss Of Welfare Benefits – Daily Express
Bulgaria's parliament banned the wearing of face veils on Friday in a bid to boost security in the wake of Islamist militant attacks in Europe.
The new "burqa ban" law, which had been driven by the nationalist Patriotic Front coalition, comes after France, the Netherlands and Belgium banned the wearing of burqas or niqabs in public.
The ban will not only apply to Bulgarian citizens but also to anyone temporarily in the country.
The new law states that clothing that conceals the face may not be worn in the institutions of Bulgaria's central and local administrations, schools, cultural institutions, and places of public recreation, sports and communications.
Krasimir Velchev, a senior lawmaker for the ruling GERB, said: "The law is not directed against religious communities and is not repressive.
"We made a very good law for the safety of our children."
Covering the head, eyes, ears and mouth will only be permitted for health reasons, professional necessity and at sporting and cultural events.
The ban will also apply to houses of worship.
A minority of Muslim women in Europe cover their faces, but their veils have become symbols for some Europeans troubled by security, immigration and Muslim integration.
Muslims make up about 12 percent of Bulgaria's 7.2 million population and most belong to a centuries-old community, largely ethnic Turks…
MORE
.
—————————————————————————————
.
Student Chooses 'His Majesty' After University Offers Choice Of Personal Pronouns – Breitbart
.

.
Following the introduction of a campus-wide policy where students at the University of Michigan can choose their own personal pronouns for the official campus roster, one student opted for "His Majesty."
The university sent out an email to students that said the university is "committed to fostering an environment of inclusiveness. Consistent with this value, the University has created a process for students to designate pronouns with the University and have those pronouns reflected on class rosters this fall."
The initiative means that students will be officially registered by the university with their chosen pronoun and also requires other students to use whatever pronoun the person prefers.
Consequently, Grant Strobl, a conservative activist and chairman of the Young Americans for Freedom Board of Governors, chose "His Majesty" as his pronoun and consequently added it to the campus roster…
MORE
.
—————————————————————————————
.
Illegal Previously Deported 3 Times Goes On Texas Crime Spree, Committing Murder, Kidnapping, Robbery, Arson – American Mirror
An illegal immigrant from Mexico with three prior deportations was arrested in Georgetown, Texas after a three-day crime spree during which police contend he committed two murders, two aggravated robberies, a kidnapping and an arson.
rios"This is an example of the worst of the worst that we go after on a daily basis," Hector Gomez, supervisory deputy marshal of the Lone Star Fugitive Task Force told the Dallas Morning News.
"We have a very porous border," he said. "Coming in and out of the country is very easy. Anyone, regardless of parentage, is capable of committing these kinds of egregious acts. It's not surprising to me. It's just a fact of the work we do."…
MORE
.
—————————————————————————————
.
Presidential Debate Commission Admits Trump's Mic Was Messed Up – Daily Caller
.

.
The Commission on Presidential Debates reported on Friday that there were in fact issues with Donald Trump's microphone at the Debate Monday evening at Hofstra university in New York.
Following the debate, Trump told the press that they "gave me a defective mic. Did you notice that? My mic was defective within the room," CNN reports. Trump posed the question: "Was that on purpose?"
While it may be too early to call it anything other than a technical malfunction, the Commission on Presidential Debates said "there were issues regarding Donald Trump's audio that affected the sound level in the debate hall."
Democratic nominee Hillary Clinton responded to Trump's claim Monday evening saying "anybody who complains about the microphone is not having a good night."…
MORE
.
—————————————————————————————
.
Globalist Panic: Official UN News Service Urges Americans Living Abroad To Help Stop Trump – Gateway Pundit
The United Nations urged globalist supporters to take action to stop Donald Trump.
The UN links to the globalist progressive website AVAAZ which is linked to the far left smear site Media Matters.
AVAAZ is running a globalist campaign this week to stop Trump.
The Politico reported:
The United Nations News Centre – the official U.N. news service – tweeted, then quickly pulled, a post that called for "8 million Americans abroad" to "stop Trump."
The tweet, published at 9:14 p.m. ET on Thursday, urged American expats to share a voter registration tool on the website of the activist organization Avaaz that states, "U.S. Citizens abroad could defeat Trump… if they voted."
The Web page, titled "The October surprise that will end Trump," allows users to sign up for help registering to vote in the Nov. 8 presidential election and encourages them enlist their friends as well.
"At a time when Trump is trying to divide us, we could help defeat him if we all share this page with EVERYONE. Let's reach every US voter abroad," it reads.
The tweet was deleted within 20 minutes, without explanation.
Ari Gaitanis, chief of the U.N. News Services Section, which oversees the twitter account, said it was a mistake.
"That tweet did not originate from the UN News Centre and this was the reason for it being taken down," he told POLITICO. "We're looking into its provenance."…
MORE
.
—————————————————————————————
.
4 States Sue To Block Obama's Internet Transition Set For Tomorrow Night – Zero Hedge
.

.
The U.S. government, much to the chagrin of Senator Ted Cruz, is set to officially relinquish the Department of Commerce's oversight of the Internet Corporation for Assigned Names and Numbers (ICANN) as of tomorrow night at midnight.
ICANN is a California nonprofit that has supervised website domains since 1998, essentially under subcontract from the Commerce Department. Under the Obama transition plan oversight by the U.S. Commerce Department would end and be replaced by a multi-stakeholder community, which would include the technical community, businesses, civil society and governments.
Cruz had attempted to block the internet transition by tying the recently passed funding bill to the reversal of the ICANN turnover. That said, apparently his harsh admonishments on the Senate floor failed to draw enough support from his fellow republicans to force a government shutdown over the topic…
MORE
.
—————————————————————————————
.
Migrants Bringing Rare Diseases Strain German Health Service – Breitbart
Incoming migrants are bringing long-eradicated diseases to Germany and are putting the medical system under extreme stress.
As well as bringing a rising tide of crime and attitudes towards women that many consider incompatible with modern European values, the over one and a half million migrants who flowed into Germany last year have also brought unheard-of and rare strains of diseases to the continent. The new arrivals and their illnesses are putting pressure on the German health care system, reports Frankfurter Allgemeine Zeitung.
All migrants upon arrival in Germany are required to undergo medical screening. German doctors have been struggling with the high number of post-traumatic stress disorder cases amongst migrants, but are also finding it increasingly difficult to diagnose diseases that have been wiped out in Germany but are still prevalent in the Middle East and Africa.
Gastrointestinal and liver diseases, scabies, and tuberculosis (TB) are common amongst migrants. Henning Mothes from the Jena University Hospital in Hamburg said that German doctors are struggling to diagnose TB as the symptoms that the migrants are displaying are not typical, and the disease often goes undiagnosed. Doctors are now advised that any migrant with abdominal pain now be tested for the disease.
Another illness common in the Arab world, but unheard of in Europe, is a parasite found in foxes and dogs that can be transmitted to humans. The parasite can cause severe damage to the liver, forming large cysts that are difficult to diagnose and only a skilled specialist is able to operate on them…
MORE
.
—————————————————————————————
.
FBI Director Comey Took Millions From Clinton Foundation Defense Contractor – Washington Standard
.

.
Is anyone surprised by this corruption? When FBI Director James Comey said that the organization would not be seeking to bring charges against Hillary Clinton over her illegal email server, anyone paying attention knew there was a deep level of corruption. Now, it's been made clear. James Comey received millions of dollars from the corrupt Clinton Foundation, and his brother's law firm also does the Clinton's taxes.
According to a letter sent by 200 Republicans who stated Clinton "clearly placed our nation's secrets in peril," Comey was asked why he would not bring charges against her. "No one is above the law, and the American people deserve a more robust explanation for your decision to not recommend criminal charges."
MiniPlanet reports:
A review of FBI Director James Comey's professional history and relationships shows that the Obama cabinet leader – now under fire for his handling of the investigation of Hillary Clinton – is deeply entrenched in the big-money cronyism culture of Washington, DC…
MORE
.
—————————————————————————————
.
Brown University Railroaded Student Accused Of Rape, Judge Rules – Daily Caller
A federal judge ruled in favor of a former Brown University student Wednesday, saying the student was wrongly suspended from school for an alleged sexual assault without receiving due process. In the process, he also aggressively chastised Brown University students for harassing him with "ignorant" emails attempting to make him rule the other way.
Earlier this year, a student identified only as "John Doe" sued Brown after he was kicked off campus for being found responsible for sexual assault. Doe was accused by a fellow student of assault in October 2015, nearly an entire year after a sexual encounter between them in November 2014. After an investigation period lasting a few months, Doe was found responsible and suspended from the school until his alleged victim graduated, which is likely to be no earlier than 2018.
The decision, by Judge William E. Smith, blasts Brown for a variety of actions that deprived Doe of due process. Most notably, he faults the school for telling Doe he would be judged under the 2014 student code of conduct, but then without warning switching to a new code of conduct that did not even exist when his alleged offense occurred. The new code of conduct included a tougher definition of sexual consent, likely increasing the odds that Doe would be found responsible and kicked out.
The ruling also notes that Brown's training of sexual assault investigators apparently caused them to deliberately overlook evidence with the potential to exonerate Doe, such as exculpatory text messages sent after the alleged assault…
MORE
.
—————————————————————————————
.
Obama Made Secret Agreement To Lift Iranian Bank Sanctions On Same Day Hostages Were Released – Wall Street Journal
.

.
The Obama administration agreed to back the lifting of United Nations sanctions on two Iranian state banks blacklisted for financing Iran's ballistic-missile program on the same day in January that Tehran released four American citizens from prison, according to U.S. officials and congressional staff briefed on the deliberations.
The U.N. sanctions on the two banks weren't initially to be lifted until 2023, under a landmark nuclear agreement between Iran and world powers that went into effect on Jan. 16.
The U.N. Security Council's delisting of the two banks, Bank Sepah and Bank Sepah International, was part of a package of tightly scripted agreements – the others were a controversial prisoner swap and transfer of $1.7 billion in cash to Iran – that were finalized between the U.S. and Iran on Jan. 17, the day the Americans were freed.
The new details of the delisting have emerged after administration officials briefed lawmakers earlier this month on the U.S. decision…
MORE
.
—————————————————————————————
.
Wells Fargo Illegally Repossessed 413 Service Members' Cars – CNN
Wells Fargo will pay $24 million to settle allegations that it mistreated members of the military — including illegally repossessing their cars.
The bank, already reeling from a scandal over fake accounts, will pay $4.1 million to settle Justice Department charges that it seized 413 cars owned by service members without a court order, a violation of federal law.
The Justice Department said the illegal repossessions took place from 2008 to 2015. The first complaint came from an Army National Guardsman in North Carolina who said the bank seized his car while he was preparing to deploy to Afghanistan.
Wells Fargo then auctioned his car and tried to collect a balance of $10,000 from his family, the Justice Department said.
The bank will pay $10,000 to each of the affected service members, plus lost equity in the cars with interest, and repair their credit.
Related: Wells Fargo worker retaliation claims rile up Congress
The bank was fined $20 million more by the Office of the Comptroller of the Currency for breaking three provisions of the same law by denying members of the military certain banking protections, including capping their interest rates at 6%. Those violations began in 2006, the OCC said.
Wells Fargo said in a statement that it apologizes for not living up to its commitment of ensuring that all service members "receive the appropriate benefits and protections."
"We have been notifying and fully compensating customers and will complete this work in 60 days," the company said…
MORE
.
—————————————————————————————
.
Hillary Keeping Bill Off Campaign Trail Due To Rumored Affairs – New York Post
.

.
Hillary Clinton's campaign has been reluctant to use her scandal-scarred hubby on the campaign trail due to his multiple rumored affairs, a new report says.
A book by author Joe Conason reveals the constant concern Clinton advisers had about the former president and lists the names of his rumored lovers, ­according to The Daily Mail.
"Much more troubling to Hillary and her closest associates [than health concerns] was the constant chatter concerning her husband's alleged extramarital romances," reads an excerpt from the book obtained by the Mail.
Some of the women whom Conasen names as Bill's rumored lovers are Belinda Stronach, a former Canadian politician; Julie Tauber McMahon, who was dubbed "The Energizer" by the Secret Service; and actress Gina Gershon, who has been seen in photographs with Bill…
MORE
.
—————————————————————————————
.
ObamaNazis Stripped Judicial Watch Of 'Media' Status, Overcharged For FOIA Requests – Washington Times
Political operatives within the Obama administration wrongly punished conservative legal group Judicial Watch, stripping it of "media" status and trying to force it to pay higher fees for its open records requests, the General Services Administration inspector general said in a letter released Thursday.
The GSA botched several high-profile open records requests, delaying them for months while political appointees got involved, Inspector General Carol F. Ochoa said. The findings were released while the administration was facing charges of slow-walking open records requests for Hillary Clinton's emails, as well as other requests.
In the case of Judicial Watch, the order to strip it of media status came from political operatives with long ties to Democratic causes – and even from the White House.
The inspector general said the decision came at the behest of Gregory Mecher, a former Democratic campaign fundraiser who at the time was liaison to the White House. He is married to Jen Psaki, a longtime spokeswoman with the Obama administration and its election campaigns.
Ms. Ochoa said stripping Judicial Watch of media status violated several agency policies and things got worse when the GSA denied an appeal by the group.
The same person who ruled on the initial request also ruled on the appeal, "contrary to GSA procedures," the inspector general said.
Judicial Watch ended up suing over the request, the agency finally agreed to waive all fees and even ended up paying Judicial Watch $750 as part of the settlement.
Tom Fitton, president of Judicial Watch, questioned the agency's decision to fight a losing case that ended up costing it money…