.
House Slaps U.S. Government With Lawsuit Against Obamacare Bailout Of Insurance Companies – Daily Caller
The U.S. House of Representatives filed an amicus brief against the federal government Thursday, targeting insurance companies who want Obamacare bailouts.
It's difficult, almost impossible, to imagine a situation in which Obamacare could get any worse: 16 healthcare co-ops went belly-up, the Tennessee Health Commissioner is saying the state's Obamacare exchanges are "very near collapse," and analysts cannot fathom a positive future for the system in either the short or long-term.
The House amicus brief, in addition to explaining why the insurance companies should be barred from receiving bailout funds, also discusses why the Obama administration's move to settle other cases with billions of taxpayer dollars is both unlawful and unconstitutional.
"The law is clear that insurance companies operating on the health exchanges established pursuant to the Patient Protection and Affordable Care Act have no right to government handouts in excess of incoming funds under the Act's risk corridors program. This is because the program was intended to be budget-neutral and self-funding – i.e., outgoing payments would be covered by incoming payments – and Congress has confirmed this intent, not once but twice, through annual appropriations legislation," the brief reads.
Chief among the complaints of House members, is the Department of Health and Human Services (HHS). HHS is "apparently bent on paying insurers despite the absence of any legal obligation to do so. Allegedly in light of a non-existent 'litigation risk,' HHS recently took the extraordinary step of urging insurers to enter into settlement agreements with the United States in order to receive payment on their meritless claims."…
MORE
.
—————————————————————————————
.
Judge Strikes Down Sandy Hook Suit Against AR-15 Manufacturer – Breitbart
.

.
Connecticut Superior Court Judge Barbara Bellis has struck down the lawsuit that Sandy Hook Elementary families had brought against Remington Arms.
Remington is the parent company of Bushmaster, the brand of AR-15 that Adam Lanza stole then used to killed 26 innocents at the school.
According to a Friday report from CBS New York, Bellis cited the 2005 Lawful Protection of Commerce in Arms Act (PLCAA), which protects gun manufacturers from being sued in instances where the gun in question was legally made and sold. The AR-15 used in the Sandy Hook attack was legally made and was sold and registered to Nancy Lanza, Adam's mother. He stole that gun from her, then shot and killed her before going to the school.
The suit against Remington was filed in October 2014. BBC News reported that court documents in the filing said, "There is one tragically predictable civilian activity in which the AR-15 reigns supreme: mass shootings…
MORE
.
—————————————————————————————
.
Brain Implant Allows Man To Feel Touch On Robotic Hand – Spectrum
At the end of Star Wars Episode V: The Empire Strikes Back, Luke Skywalker feels when a needle pricks his newly-installed bionic hand. Researchers report today in the journal Science Translational Medicine that they can do something similar: stimulating regions of a human test subject's brain with electrodes can recreate the perception of touch in a robotic hand.
This year, about 280,000 people in the United States alone are living with a spinal cord injury, according to the National Spinal Cord Injury Statistical Center. Depending on the severity, damaged nerve connections lead to effects ranging from a partial loss of feeling to complete loss of motion in different limbs.
"If you lose that sense of touch, you have a really difficult time" grabbing, holding, and manipulating different objects, says Richard Gaunt, a neuroengineer at the University of Pittsburgh who works on touch feedback for prosthetics. To safely interact with other human beings and handle delicate objects such as eggs, humans need more than just control–they need to be able to modify control based on touch feedback.
In the May 2016 issue of IEEE Spectrum Dustin Tyler, head of the Functional Neural Interface Lab at Case Western Reserve University in Cleveland, described technology that allows amputees to feel a robotic arm prosthesis. That technique relied on electrically stimulating peripheral nerves using electrodes implanted into the user's arm. The system improved the delicate motion capabilities in a robotic arm. But the technology doesn't work if the connection between limbs and brain is absent, such as with spinal cord injuries, Gaunt says…
MORE
.
—————————————————————————————
.
Former U.S. Attorney: Agents See FBI Chief Comey As A 'Dirty Cop' – American Spectator
.

.
James Comey presides over an FBI in revolt over his leadership, a former U.S. attorney tells The American Spectator, and pursues "paranoid, delusional, and vindictive" measures to prevent negative information leaking out to the public.
"I know that inside the FBI there is a revolt," Joseph diGenova tells The American Spectator. "There is a revolt against the director. The people inside the bureau believe the director is a dirty cop. They believe that he threw the [Hillary Clinton email] case. They do not know what he was promised in return. But the people inside the bureau who were involved in the case and who knew about the case are talking to former FBI people expressing their disgust at the conduct of the director."
The loss of faith in the bureau chief stems in part from a dishonest rendering of the decision not to indict Mrs. Clinton as unanimous rather than unilateral and in part from the bureau's decision to destroy evidence in the case and grant blanket immunity to Clinton underlings for no possible prosecutorial purpose…
MORE
.
—————————————————————————————
.
Hillary's Email Cover-Up Squad Tried To Shield Co-conspirator Obama – USA Politics Now
Do you recall when Barack Obama said he didn't know about then-SecState Hillary Clinton's private email server?
The media probably doesn't.
We later learned that 44 used a pseudonym when communicating with Clinton.
Now, another WikiLeaks reveal shows an attempt by Hillary's team to shield Obama the day after her emails were subpoenaed.
Can you say, cover-up?
Because that's what this is.
Everyone knew that Clinton was in the wrong, and they all went along for the ride.
.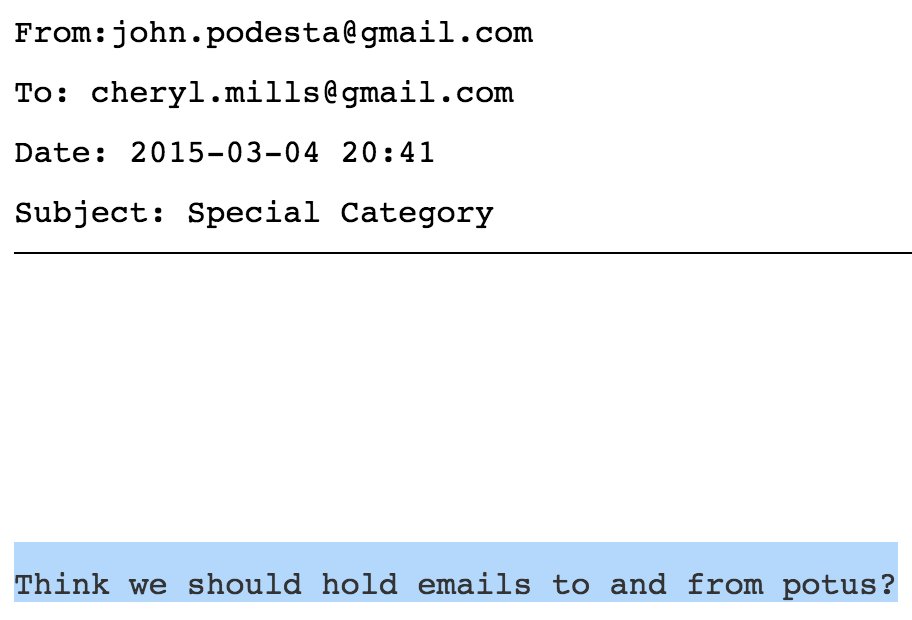 .
=============================================
Harlan Hill
@Harlan
ALERT: After subpoena @JohnPodesta suggested withholding emails between HRC & BO.
I'd say those were pretty damn material to investigation.
10:53 AM – 14 Oct 2016
=============================================
=============================================
.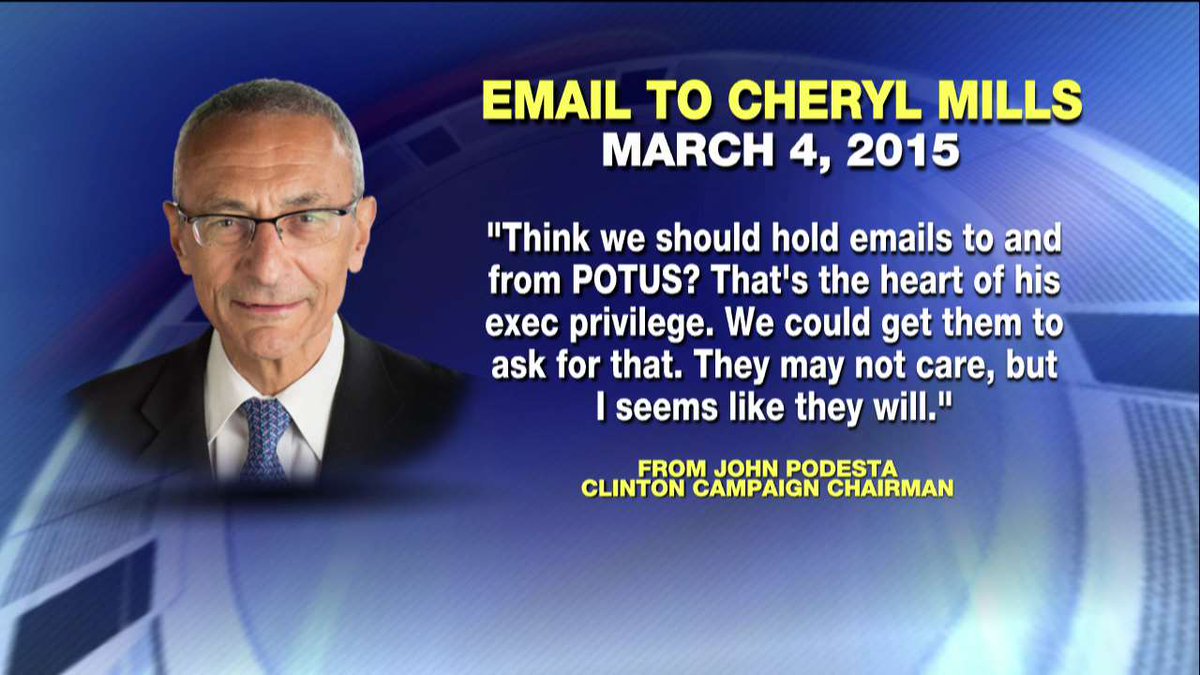 .
Fox News
@FoxNews
#Podesta email to Cheryl Mills: "Think we should hold emails to and from POTUS? That's the heart of exec privilege."
10:47 AM – 14 Oct 2016
=============================================
=============================================
Deplorable Lori
@Holly1L
#Wikileaks
3/3/15 Trey Gowdy subpoenas Clinton emails
3/4/15 Podesta emails Cheryl Mills asks 2w/hold Obama emails via executive privilege
10:50 AM – 14 Oct 2016
=============================================
=============================================
.

.
eddie
@eddiecarl4468
Cheryl Mills and John Podesta discussing holding emails to and from Obama. Obama did know about private server!!!!!
10:33 AM – 14 Oct 2016
=============================================
How can people say these sort of actions don't matter? The malfeasance is off the chain.
How can they seep at night knowing they're backing the most corrupt politician of her era?
Why are we more concerned with rumors about Trump over facts about Hillary?
MORE
.
—————————————————————————————
.
Putin Ally Warns Of Nuclear War If Hillary Is Elected President – New York Daily News
.

.
An ultra-nationalist Putin-ally says Americans must vote for Donald Trump this November – since voting for Hillary Clinton would set off "Hiroshimas and Nagasakis everywhere."
Vladimir Zhirinovsky asserted Trump is the only candidate who could soothe relations between Moscow and Washington, spurring further suspicion about what financial ties the billionaire mogul might have in the eastern superpower.
"Relations between Russia and the United States can't get any worse," Zhirinovsky told Reuters during an interview in Moscow. "Americans voting for a president on Nov. 8 must realize that they are voting for peace on Planet Earth if they vote for Trump. But if they vote for Hillary it's war. It will be a short movie."
The boisterous lawmaker – who regularly lauds Trump for praising Putin over President Obama – did not expand on his fear-mongering claims…
MORE
.
—————————————————————————————
.
Wall Street Journal Finally Lashes Out: "The Press Is Burying Hillary Clinton's Sins" – Zero Hedge
Even the Wall Street Journal is now fed up with the biased media coverage of the 2016 Presidential election as revealed by a scathing article written by Kimberly Strassel, a member of their editorial board. As Strassel points out, it's almost impossible to turn on the TV without hearing about Trump's "lewd" comments while coverage of Hillary "uniformly ignores the flurry of bombshells" inherent in the various WikiLeaks, FOIA releases and FBI interviews.
If average voters turned on the TV for five minutes this week, chances are they know that Donald Trump made lewd remarks a decade ago and now stands accused of groping women.
But even if average voters had the TV on 24/7, they still probably haven't heard the news about Hillary Clinton: That the nation now has proof of pretty much everything she has been accused of.
It comes from hacked emails dumped by WikiLeaks, documents released under the Freedom of Information Act, and accounts from FBI insiders. The media has almost uniformly ignored the flurry of bombshells, preferring to devote its front pages to the Trump story. So let's review what amounts to a devastating case against a Clinton presidency.
Of course, the list of Hillary scandals is becoming way to long to remember though one of the biggest has been her establishment of the now infamous private email server and the subsequent intentional destruction of federal records despite the existence of a Congressional subpoena.
Start with a June 2015 email to Clinton staffers from Erika Rottenberg, the former general counsel of LinkedIn. Ms. Rottenberg wrote that none of the attorneys in her circle of friends "can understand how it was viewed as ok/secure/appropriate to use a private server for secure documents AND why further Hillary took it upon herself to review them and delete documents."…
MORE
.
—————————————————————————————
.
Gennifer Flowers: Bill Clinton Paid $200 For Me To Abort His Baby – Breitbart
.

.
In a rare exclusive interview, Gennifer Flowers, who says she had a 12-year affair with Bill Clinton, opened up about what she described as the experience of having an abortion after she says she found out she was pregnant with Clinton's child.
Flowers stated that Clinton personally paid $200 for the abortion in 1977, and she revealed that she was made aware that Hillary Clinton knew that same year about the alleged affair, which Flowers says continued another eleven years or so.
Flowers described the abortion as "psychologically a horrible thing to go through," and "not only physically painful but it was very psychologically painful."
Flowers was speaking in an hour-long emotional interview set to air Sunday on this reporter's talk radio program, "Aaron Klein Investigative Radio," broadcast on New York's AM 970 The Answer and NewsTalk 990 AM…
MORE
.
—————————————————————————————
.
Judge Rips Off Robe, Tackles Defiant Stalker Resisting Courtroom Arrest – American Mirror
Jackson County Circuit Court Judge John McBain doesn't take any lip from criminals in his courtroom.
Michigander Jacob Larson, in McBain's courtroom for repeatedly stalking a former high school classmate, learned that lesson the hard way when McBain tossed off his robe and tackled him for mouthing off and resisting arrest in December, Mlive.com reports.
In recently released courtroom footage, McBain grew increasingly agitated by Larson throughout the hearing as the man attempted to blame his ridiculous behavior on his victim, whom he alleged McBain was "buddy-buddy" with. McBain acknowledged that his daughter is acquaintances with the victim, but stressed that he did not personally know the victim or Larson.
The woman victim told the court Larson was "obsessed" with her for some reason and sent her 22 Facebook messages between August, when McBain granted a personal protection order, and the Dec. 2 hearing.
"He's not leaving me alone," the 22-year-old told the judge.
McBain noted that Larson put things on the woman's car, visited her at work, sat and waited at the woman's car and engaged in other creepy antics.
"It's Fatal Attraction stuff I warned you about last time," McBain said. "I told you to just leave her alone."
"I want her to tell me to leave her alone," Larson shot back.
"You know what, I told you to leave her alone," McBain replied. "And apparently that didn't get through loud and clear so today you are going to jail for three days. And the next time you violate it you're going…"
"You two are buddy-buddy," Larson said, cutting him off.
That's when things got ugly.
"You know what, you have a bad attitude. You had a bad attitude the last time… you were even referencing discussions about my own daughter," McBain said…
MORE
.
—————————————————————————————
.
Democrat Governor Who Supported Obamacare Now Blasts It As Unaffordable – Zero Hedge
.

.
Soaring Obamacare premiums and declining insurer participation rates in exchanges across the country have been a frequent topic of conversation for us (see "Obamacare On "Verge Of Collapse" As Premiums Set To Soar Again In 2017″ and "Stunning Maps Depict Collapse Of Obamacare "Coverage" In 2017″).
Now, even early proponents of the "Affordable Care Act" are starting to distance themselves from a policy initiative which is, at this point, a complete and obvious failure. According to CBS, Democratic Minnesota Governor, Mark Dayton, recently called for changes to the healthcare exchanges in his state saying that "the Affordable Care Act is no longer affordable."
"Ultimately I'm not trying to pass the buck here but the reality is the Affordable Care Act is no longer affordable," Dayton said.
Dayton says changes to the program are critical, as he stepped away from one of his signature political platforms…
MORE
.
—————————————————————————————
.
Catholic Bishop Calls Hillary 'Scheming, Robotic Liar' – Washington Examiner
Outraged by the anti-Catholic bigotry displayed in leaked Team Clinton emails this week, the powerful Philadelphia bishop blasted both President Obama and Hillary Rodham Clinton for their efforts to undermine church teachings.
In his weekly column for the Archdiocese of Philadelphia, Archbishop Charles Chaput Thursday demanded that Clinton repudiate the emails – then added that he doesn't expect her to.
Mocking the theme in the emails that Catholics are backward thinking for views on abortion, marriage and other core issues, Chaput wrote, "Of course it would be wonderful for the Clinton campaign to repudiate the content of these ugly WikiLeaks emails. All of us backward-thinking Catholics who actually believe what Scripture and the Church teach would be so very grateful."
He described Clinton as "a scheming, robotic liar with a lifelong appetite for power and an entourage riddled with anti-Catholic bigots."
The emails have roiled the Catholic community, especially among conservative church followers and leaders like Chaput.
The email scandal gave Chaput a chance to also blast Obama and his liberal policies that, he said, have done "cultural damage."
Then, he turned to Clinton in his column, writing:
"But bad can always get worse. I'm thinking, of course, of the contemptuously anti-Catholic emails exchanged among members of the Clinton Democratic presidential campaign team and released this week by WikiLeaks. A sample: Sandy Newman, president of Voices for Progress, emailed John Podesta, now the head of Hillary Clinton's campaign, to ask about whether 'the bishops opposing contraceptive coverage' could be the tinder for a revolution…
MORE
.
—————————————————————————————
.
Bill Clinton's Penthouse Pet Lover Died In Mysterious Fire That Her Sister Believes Was Started To Cover Up Affair – Daily Mail
.

.
As more and more women line up to tell their stories about sex with Bill Clinton – both consensual and forced – there is one who is unable to relive the details of her alleged affair.
Penthouse Pet Judi Gibbs died in a mysterious house fire in 1986 amid rumors that she had pictures that proved she and the then-Governor of Arkansas had been regular sex partners.
And even now, 30 years after she died alongside her much-older other lover, doubts remain about how and why Gibbs and her long-time beau Bill Puterbaugh met their grizzly deaths.
But now DailyMail.com has pieced together the life and death of Judi Gibbs, telling for the first time how the auburn-haired woman from a pin-prick of an Arkansas town managed to bed the man who went on to be one of the most powerful men in the world.
And the question remains unanswered: Was Judi Gibbs killed because Bill Clinton and his advisers feared the affair was about to become public?
'I have always been convinced that Bill Clinton was responsible for the fire, but I have no proof,' Gibbs' older sister Martha, who still lives in Sims, Arkansas, told DailyMail.com. 'And what would happen if I had proof – you can't touch those people.'
At the time of her death, Gibbs was 32 and living with 57-year-old developer Puterbaugh in a large isolated home a quarter-mile drive opposite a tiny airport outside Fordyce, Arkansas.
Their bodies were both found in the huge master bedroom. They died of smoke inhalation.
Puterbaugh's son, Randy, who followed him into the real estate business, tells a similar story to Martha Gibbs, even though the two have not spoken since the days following the double death…
MORE
.
—————————————————————————————
.
Twitter Suspends James O'Keefe As He Releases New Hillary Video – Daily Caller
Twitter suspended the account of conservative activist James O'Keefe in the hours before and during his release of a video of a Democratic senatorial candidate saying Hillary Clinton might use executive power on guns.
O'Keefe went undercover to a August fundraiser for Wisconsin Democratic senatorial candidate and former Sen. Russ Feingold in California. O'Keefe asked Feingold what Clinton could do about gun control and Feingold replied, "Well, there might be an executive order."
Amy Rao, the host of the fundraiser and a Clinton donor, is also featured in the video. Rao told O'Keefe, "Hillary wants to shut it down. If we can get guns away from everyone in this country, she'll close the loopholes, she'll get rid of assault weapons, she will get rid of being able to buy you know, unlimited bullets, she's gonna make all that stop."
Twelve hours before the release of the video, Twitter suspended O'Keefe's account and as of Thursday afternoon it remains suspended.
WATCH:
.

.
MORE
.
—————————————————————————————
.
Hillary Told GE Executives That More Food Stamps Will Fix The Economy – Investment Watch
.

.
"Hillary Clinton argued that expanding food stamps and other safety net programs is essential to fuel economic growth at a speech to General Electric executives, according to an excerpt of the transcript made public by WikiLeaks Friday.
"Economic growth will take off when people in the middle feel more secure again and start spending again," Clinton said in her speech at General Electric's Global Leadership Meeting in January, 2014."
"Giving people income assistance, like the food stamps program, would help the economy because families on food stamps will have more money to spend, Clinton argued. "We need to get back to Henry Ford paying his workers a high wage because he wanted people to buy his cars," Clinton told the group, referring to Ford's 1914 decision to double increase wages and bonuses for his employees."…
MORE
.
—————————————————————————————
.
CNN's Jake Tapper On Donna Brazile Leak To Clinton Campaign: 'Unethical', 'Horrifying' – Breitbart
A WikiLeaks document suggests former adviser to President Bill Clinton and current Democrat National Chairperson Donna Brazile provided a question to Clinton's aides during the recent Democrat primaries. Now Brazile's CNN colleague, Jake Tapper, insists Brazile's actions were "unethical" and "horrifying."
In a Thursday interview on Washington D.C.'s WMAL radio, Tapper told host Larry O'Connor that the evidence that Brazile leaked debate questions to Hillary's campaign was a journalistically unethical act.
Tapper told O'Connor that the WikiLeaks news was "very, very troubling," before noting that Brazile is "a good person."
The CNN host of The Lead with Jake Tapper went on to express dismay over the leak purportedly emanating from his cable network.
"It's horrifying. Journalistically it's horrifying," Tapper said, "and I'm sure it will have an impact on partnering with this organization in the future and I'm sure it will have an effect on… Donna Brazile is no longer with CNN because she's with the DNC right now, but I'm sure it will have some impact on Donna Brazile."
Tapper also assured WMAL that CNN takes this "very, very seriously."
In closing, the CNN host reiterated, "it's horrifying and very, very upsetting and I can't condemn it any more than… I condemn it in no uncertain terms, it's awful."
According to the documents released by WikiLeaks, on March 12 – just one day before a Democratic presidential town hall debate between Sen. Bernie Sanders (I-VT) and Hillary Clinton – Brazile allegedly sent an email titled "From time to time I get the questions in advance," to Jennifer Palmieri, Clinton's campaign communications director. The email provided a question about the death penalty that she said "worries me about HRC."…