.
House Votes To Abolish Obamacare 'Death Panel' – Daily Caller
The House Thursday voted to repeal a key government board established by the Affordable Care Act that conservatives rallied against during the Obamacare debate seven years ago out of concern that the provision could wind up rationing medical care for patients.
The Independent Payment Advisory Board (IPAB), famously called a "death panel" by its opponents, is a 15-member federal agency intended to reduce Medicare without taking away coverage or quality of care. The American Enterprise Institute has pointed out, that IPAB "emphasizes payment reductions at the expense of real Medicare reform.
The constraints placed on what the IPAB can recommend were not accidental. The authors of the ACA support restraining Medicare spending, but only with government-imposed payment restrictions, not financial incentives."
The IPAB can make recommendations about cuts to Medicare sans congressional oversight or input. IPAB proposals use "fast track" protocols and require a three-fifths vote in the Senate for Congress to alter the kinds of cuts to Medicare…
MORE
.
—————————————————————————————
.
Donald Trump Challenges Jeff Sessions: 'Where Is Our Justice Department' On Hillary Clinton? – Breitbart
.

.
President Donald Trump signaled frustration with the Justice Department's falure to respond to the ongoing scandals involving the Clinton family, the DNC, the FBI, and the "phony" Russian sourced dossier.
"A lot of people are disappointed in the Justice Department, including me," Trump told reporters at the White House on Friday morning before leaving for his trip to Asia. Trump said that the Justice Department should be investigating Democrats and the Clintons, sharing several oberservations on Twitter.
"This is real collusion and dishonesty," Trump wrote on Twitter Thursday night, responding to Donna Brazile's revelation that Hillary Clinton's campaign was controlling DNC operations and fundraising well before winning her primary…
MORE
.
—————————————————————————————
.
Obama Regime Lied: New Memos Reveal Uranium One Exports To "Europe And Asia" Via Canada – Zero Hedge
As the mainstream media continues to obsess over $100,000 worth Facebook ads allegedly purchased by Russian spies in 2016 seeking to throw the presidential election, behind the scenes, far removed from the sight of CNN and MSNBC, the Uranium One scandal, in which the Obama administration approved a deal that handed a Russian-controlled corporation 20% of America's uranium reserves despite the existence of an FBI investigation into ongoing illegal bribery, extortion and money laundering schemes, is slowly spiraling out of control… despite CNN's continued ignorance of the topic.
By now we're sure that most of our readers are well aware that Obama's approval of the Uranium One deal seemingly landed the Clinton Foundation some $145 million in donations and a $500,000 speaking gig for former President Bill Clinton from a very thankful Russian bank… if not, here are a couple of recent posts on the topic as a recap:
* FBI Uncovered Russian Bribery Plot Before Obama Approved Uranium One Deal, Netting Clintons Millions…
MORE
.
—————————————————————————————
.
Trump Effect: Broadcom Moving Headquarters Back To U.S. – Reuters
.

.
Chipmaker Broadcom Ltd (AVGO.O) plans to redomicile to the United States from Singapore, President Donald Trump said on Thursday at a White House news conference where the company's chief executive cited Republican tax efforts.
Broadcom Chief Executive Officer Hock Tan told reporters: "America is again the best place to lead a business with a global footprint. Thanks to you Mr. President, business conditions have steadily improved."
The company later confirmed the plan in a statement that quoted Tan as saying: "We expect the tax reform plan effectively to level the playing field for large multinational corporations headquartered in the United States and to allow us to go all in on U.S. redomiciliation…
MORE
.
—————————————————————————————
.
A New Bill In Congress Would Prevent Any Baby With A Heartbeat From Being Aborted – Washington Standard
A new bill being considered by the U.S. House of Representatives would make it illegal for an abortion to be performed on any fetus with a detectable heartbeat.
This bill is known as "the Heartbeat Protection Act", and it would be a massive victory for the pro-life movement in this country if it becomes law. So far about 170 members of the House are behind this bill, but it will need more votes than that to pass. And even if it passes the House, it would still have to get through the Senate, and if just a few RINOS in the Senate vote against the bill that would be enough to block it.
But even though the road ahead looks challenging, that is not an excuse to quit fighting. Ultimately, polls have shown that most Americans would support this kind of a law.
Via CBN News: A new bill in Congress, HR490, would make the presence of that heartbeat the standard for outlawing an abortion. Some 170 House members back the Heartbeat Protection Act, which had its first hearing on Capitol Hill Wednesday…
MORE
.
—————————————————————————————
.
President Trump Announces Jerome 'Jay' Powell As Fed Chair – Zero Hedge
.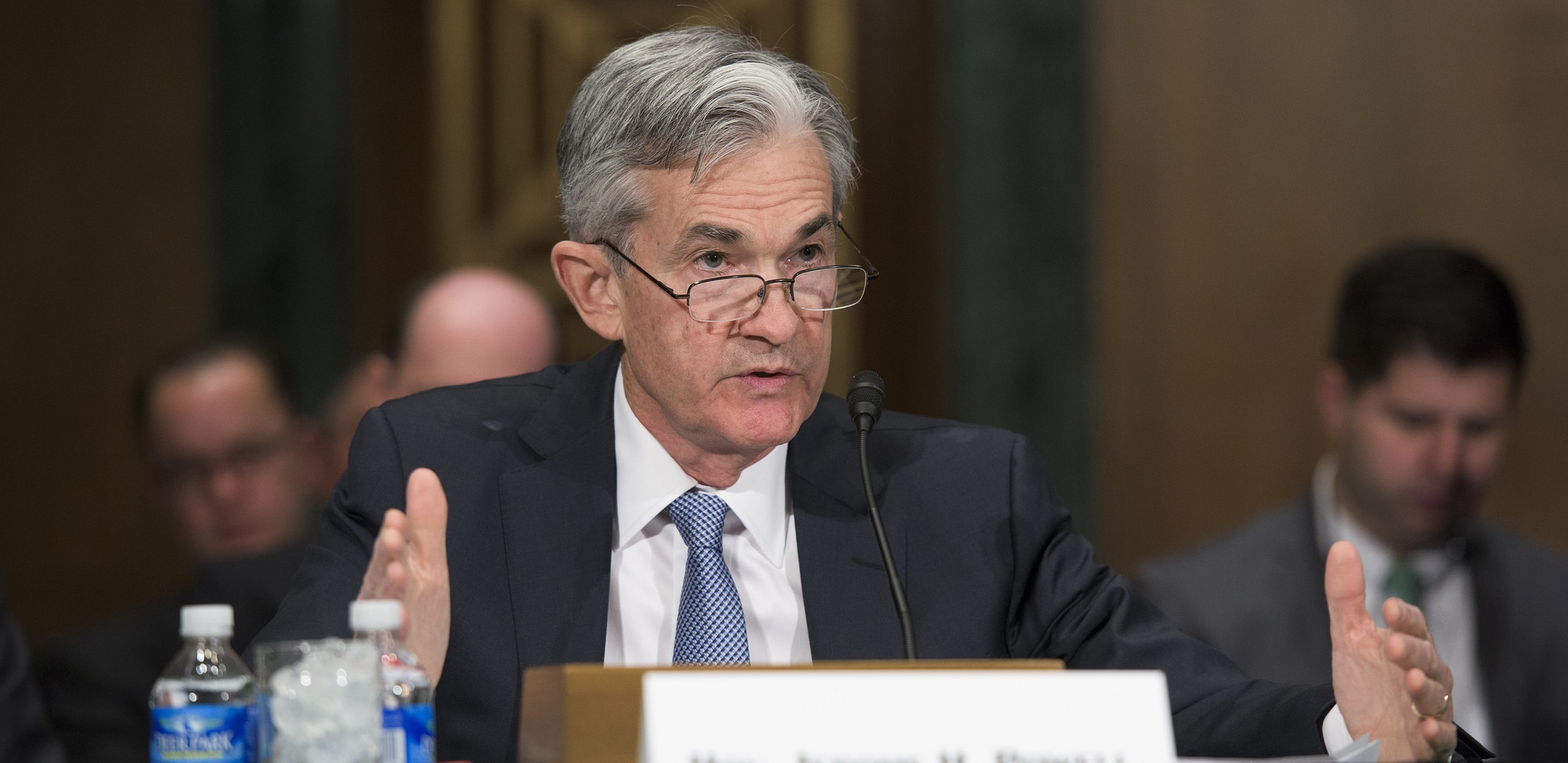 .
Jerome Powell will be the first former investment banker to become Fed Chair (and first non-economics PhD in 40 years).
Powell, a Princeton graduate, was a lawyer in New York before he joined the investment bank Dillon Reed & Co. in 1984. He stayed there until he joined the Treasury Department in 1990. After he left Treasury, he became a partner in 1997 at The Carlyle Group (CG), the private equity and asset management giant. He left Carlyle in 2005.
He will also likely be the richest Fed head ever – Powell's assets are worth between $21 million and $61 million, according to financial disclosures which require officials to give a range in the value of their various holdings…
MORE
.
—————————————————————————————
.
Trump: NYC Terrorist Was 'Point Of Contact' For 23 Additional Immigrants – Breitbart
President Donald Trump warned that "chain migration" continued to be a problem, pointing out that the suspected New York City terrorist was the "primary point of contact" for 23 additional people trying to enter the United States. "That's not acceptable," Trump said.
A source speaking to ABC News confirmed Trump's citation but said it was unclear if those people were immediate family members, distant family members, or friends. The suspected terrorist, Sayfullo Saipov, came to the United States in 2010 via the Diversity Visa Program and lived in Paterson, New Jersey, with his wife and three children.
He is originally from Uzbekistan and was reportedly radicalized online while living in the United States. Trump vowed to respond to the attack with toughness, urging law enforcement officials to continue fighting terrorism.
"Terrorists are constantly seeking to strike our nation, and it will require the unflinching devotion to our law enforcement, homeland security, and intelligence professionals to keep America safe," he said…
MORE
.
—————————————————————————————
.
Donna Brazile Says She 'Found Proof' That Crooked Hillary 'Rigged' The Democrat Primary – Mediaite
.

.
In her new book Hacks, Donna Brazile – the former interim Democratic National Committee chairwoman – alleges that Hillary Clinton "rigged the [party's] nomination process" against populist candidate Bernie Sanders in the 2016 primaries.
"I had found my proof [of rigging] and it broke my heart," wrote Brazile in an exerpt of her book published by Politico Magazine today.
The said rigging, according to Brazile, was discovered in an agreement and explained as follows:
"The agreement – signed by Amy Dacey, the former CEO of the DNC, and Robby Mook [Clinton campaign manager] with a copy to Marc Elias – specified that in exchange for raising money and investing in the DNC, Hillary would control the party's finances, strategy, and all the money raised…
MORE
.
—————————————————————————————
.
Spain Seeks To Jail Catalan Leaders – Zero Hedge
The Spanish public prosecutor on Thursday ordered the country's High Court that the Catalonian secessionist leaders be jailed. An arrest warrant be issued for ousted Catalan president Carles Puigdemont and eight members of his former government.
Investigative magistrate Carmen Lamela issued the ruling on Thursday at the request of prosecutors who are pursuing a criminal case stemming from the declaration of secession the Parliament of Catalonia made Friday.
The eight are Oriol Junqueras (Deputy First Minister, economy), Jordi Turull (spokesman), Raul Romeva (foreign affairs), Josep Rull (territory), Meritxell Borrلs (public administration), Carles Mundَ (justice), Dolors Bassa (work & social affairs), Joaquin Form (interior).
The prosecutor's office requested the jailing of Catalonian Vice-President Oriol Junqueras and seven other officials charged with rebellion, sedition and embezzlement of public funds, while the probe is ongoing, La Vanguardia reports…
MORE
.
—————————————————————————————
.
Astros Win First World Series In Franchise History – Fox News
.

.
The Houston Astros claimed their first World Series title Wednesday night, defeating the Los Angeles Dodgers in Game 7, 5–1.
Houston started the game off fast, scoring all of its five runs in the first two innings off Dodgers starter Yu Darvish. The early run support was all the Astros needed.
World Series MVP George Springer led the evening off with a double and before you could blink your eyes, Houston was up 2–0. Springer then came up in the third inning and socked a two-run home run. It was his fifth home run of the World Series, tying a mark set by Reggie Jackson and Chase Utley.
"We're coming home a champion, Houston," Springer said…
MORE
.
—————————————————————————————
.
Senate Confirms Joan Larsen To 6th Circuit Court Of Appeals – Washington Examiner
The Senate confirmed Joan Larsen to the 6th Circuit Court of Appeals on Wednesday in 60-38 vote. Eight Democrats crossed the aisle to vote for the Michigan Supreme Court justice, including both Michigan Sens. Debbie Stabenow and Gary Peters. Stabenow is up for re-election in 2018.
President Trump previously considered Larsen for the Supreme Court vacancy created by Justice Antonin Scalia's death. She is a former Scalia law clerk and delivered a tribute at a memorial service last year for him that featured several of the high court justices.
The Judicial Crisis Network, which boosted Justice Neil Gorsuch's high court confirmation, spent $140,000 attacking Michigan's Democratic senators who were considering opposing Larsen's nomination. The Susan B. Anthony List similarly mobilized its group of anti-abortion activists in support of Larsen's nomination.
Larsen is the second woman confirmed to a Midwestern federal appeals court in as many days this week. Votes on other federal judicial nominees are expected this week…
MORE
.
—————————————————————————————
.
Law Professor Amy Barrett Confirmed To 7th Circuit Court Of Appeals – Daily Caller
.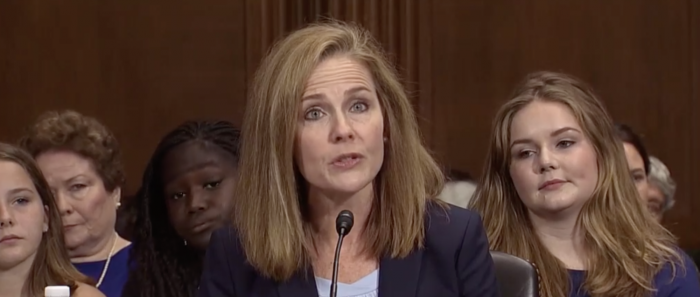 .
The Senate voted Tuesday to confirm Notre Dame Law School Professor Amy Coney Barrett to the 7th U.S. Circuit Court of Appeals, ending an awkward confirmation process which evolved into an institutional debate on religious liberty and the Constitution's ban on religious tests.
The 55-43 confirmation vote largely followed party lines, though three Democrats joined Republicans in supporting her confirmation, namely Sens. Tim Kaine of Virginia, Joe Manchin of West Virginia, and Joe Donnelly of Indiana.
The Barrett confirmation was something of a proxy for widespread anxieties about religious freedom and faith in public life. Barrett, a Roman Catholic, produced scholarship concerning the ethical obligations of observant Catholic judges in capital cases, and spoken generally about Catholic practice in the legal context…
MORE
.
—————————————————————————————
.
The Left Has Blood On Its Hands In Manhattan – Daniel Greenfield
Earlier this year, a final settlement was reached in the war on the NYPD's counterterrorist Islamic surveillance. The Manhattan courtroom where the lawfare effort to dismantle the NYPD's ability to stop terrorist attacks was heard is blocks away from the site of the latest Islamic terrorist attack in New York.
Walk two blocks down to City Hall. And then head down Chambers to the West Side Highway. That's where the terrorist attack that killed eight people ended when an NYPD officer shot the terrorist. If he had kept going down the West Side Highway, instead of crashing into a school bus, he would have eventually been within attack range of the 9/11 Memorial. And maybe that was his original plan.
But his message was very clear. He shouted it as he left the truck with which he murdered 8 people.
"Allahu Akbar". These were the last words on the Flight 93 flight recorder. Mohamed Atta had advised his fellow 9/11 hijackers to, "Shout, 'Allahu Akbar,' because it strikes fear in the hearts of the infidels."…
MORE
.
—————————————————————————————
.
What the Kennedy Assassination Records Reveal: Uncontrollable Incompetence – Charles Hugh Smith
.

.
Imagine Harvey Weinstein wielding a "top secret" stamp to block any exposure of the uncomfortable truth and you have the FBI, CIA and NSA.
One way to interpret the intelligence community's reluctance to let all the Kennedy assassination archives become public is that the archives contain evidence of a "smoking gun": that is, evidence that the intelligence agencies of the United States of America were complicit in the assassination of the President.
I think the agencies fear something larger: exposure of their gross incompetence, their "cowboy" recklessness and their disavowal of elected-civilian control. Their fear of this exposure is based on one simple fact: nothing's changed since 1963…
MORE
.
—————————————————————————————
.
93% Of Mueller;s Grand Jury Pool Voted For Hillary – American Mirror
Matt Drudge, proprietor of the enormously influential Drudge Report, is providing some perspective on the recent indictment of former Trump campaign chairman Paul Manafort, the first to come out of special counsel Robert Mueller's investigation into the 2016 election.
Drudge took to Twitter on Monday to highlight the partisan influence.
"Mueller DC grand jury pulled from population that voted 93% for Hillary, highest in nation. Whatever…," Drudge wrote.
Seconds later:
"Let's do special prosecutor for Clinton in Wyoming, with grand jury pulled from population that voted 70% for Trump, highest in nation…,"
Drudge, who rarely posts messages to his personal Twitter account, issued a third message on Tuesday, "Back to business…," along with a picture of the top headlines for the Drudge Report: "Great Again: Consumer Confidence Soars!, Home Prices Reach All-Time High, Economy Beats Expectations."…
MORE
.
—————————————————————————————
.
CNN's Jake Tapper Calls Allahu Akbar 'Beautiful' After Terrorist Attack – Daily Caller
.

.
CNN anchor Jake Tapper called the Islamic phrase Allahu Akbar "beautiful" minutes after reports of a terrorist attack in New York City, Tuesday on "The Lead."
Tapper was interviewing CNN's crime and justice reporter Shimon Prokupecz when he chimed in to give his opinion on the nature of the terrorist chant.
"The Arabic chant Allahu Akbar, God is great – sometimes said under the most beautiful of circumstances and too often we hear of it being said in moments like this," Tapper said.
The FBI is now investigating the attack that occurred Tuesday, in which at least six people were killed in Lower Manhattan. So far reports indicate the suspect plowed over several pedestrians on a bike path and then opened fire from the car…
MORE
.
—————————————————————————————
.
NYC Foreign Terror Suspect Entered U.S. With 'Diversity Visa' Trump Wants To End – Breitbart
The suspected foreign national terrorist behind the New York City attack that has left at least eight individuals dead came to the United States years ago through the Diversity Visa Lottery, a program that President Trump and pro-American immigration reformers have demanded an end to.
According to ABC New York, 29-year-old Sayfullo Saipov – the man who allegedly mowed down pedestrians in the Tribeca neighborhood of New York City – entered the U.S. in 2010 from Uzbekistan under the Diversity Visa Lottery before obtaining a Green Card.
The Diversity Visa Lottery gives out 50,000 visas every year to foreign nationals from a multitude of countries, including those with known terrorist problems – such as Afghanistan, Algeria, Egypt, Iraq, Lebanon, Libya, Nigeria, Saudi Arabia, Somalia, Syria, Trinidad and Tobago, Venezuela, Yemen, and Uzbekistan.
Trump, though, along with Sen. Tom Cotton (R-AR) and Sen. David Perdue (R-GA), has been calling for an end to the Diversity Visa Lottery program since August…
MORE
.
—————————————————————————————
.
8 Killed, Many More Injured As Islamic Terrorist Truck Driver Runs Down Pedestrians In Manhattan – New York Post
.

.
A terrorist in a rental truck sped for nearly a mile down a popular bike-only path in lower Manhattan on Tuesday – killing eight people in the shadow of the World Trade Center and then shouting, "Allahu Akbar."
"This was an act of terror," Mayor Bill de Blasio declared at an evening press conference. "A particularly cowardly act of terror aimed at innocent civilians, aimed at innocent people going about their lives."
Sayfullo Saipov, a 29-year-old immigrant from Uzbekistan, was shot by a cop after getting out of his car at Chambers and West streets with two realistic-looking guns while screaming "Allahu Akbar", police sources said…
MORE
.
—————————————————————————————
.
Consumer Confidence At Highest Level Since 2000 – The Hill
Consumer confidence in the U.S. has reached its highest point in nearly 17 years, according to a new survey out Tuesday.
The Consumer Confidence Index now stands at 125.9 – its highest point since December of 2000, when it hit 128.6, the Conference Board, a business research group, said. Last month, the index reached 120.6.
Consumers' outlook on current economic conditions improved from last month, and they appear optimistic about the short-term outlook, Lynn Franco, the Conference Board's director of economic indicators, said in a statement, noting that the economy is likely to continue growing at a steady pace for the rest of the year.
The findings signal more good news for the economy. Also fueling consumer confidence is the job market, "which had not received such favorable ratings since the summer of 2001," Franco said.
Unemployment currently sits at 4.2 percent – its lowest point in 16 years…
MORE
.
—————————————————————————————
.
Nothing Burger With Wheeze – Roger Kimball
.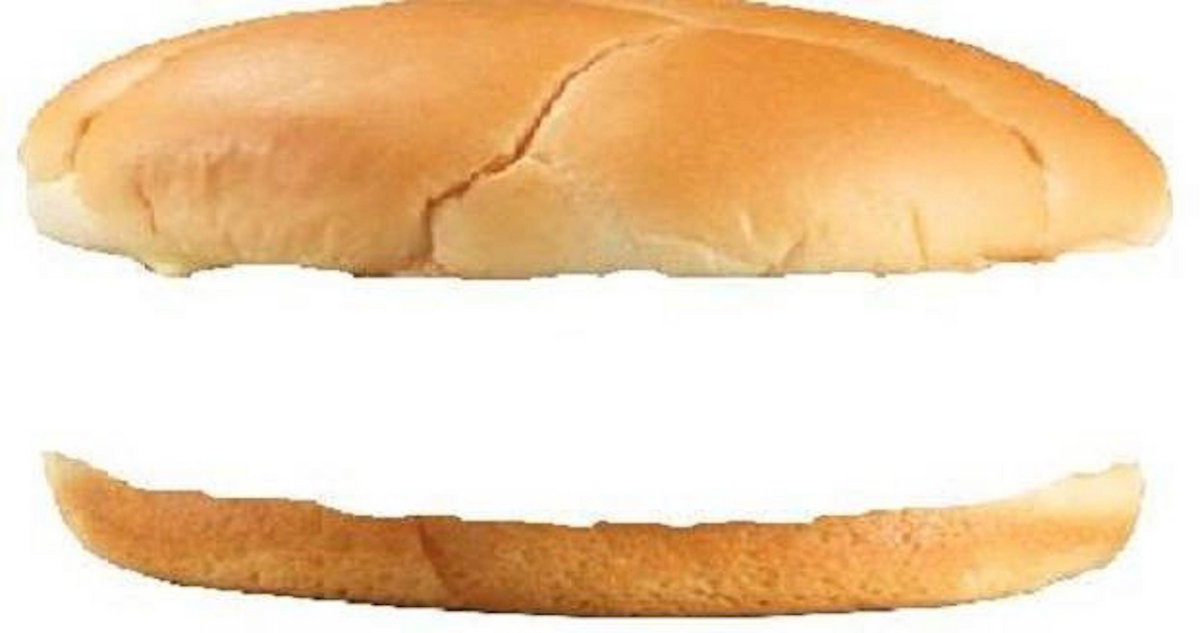 .
Given the ocean of blaring red type with which the Drudge Report greeted the news of the indictment of Paul Manafort and Richard Gates on Monday morning, you might have thought that here, at last, was the smoking gun in the Trump-colludes-with-Ruskies-to-snatch-the-election-from-Hillary narrative.
I have no doubt the collective hearts of Max Boot, Gabe Schoenfeld, and Bill Kristol skipped a joyous beat when they heard tell of the indictments this weekend. "At last!" I could almost hear them exclaim, "It's make-way-for-ducklings time! Trump will soon be gone and the power brokers will once again pay attention to us. Order in the universe will be restored."
No such luck, friends. As Ted Cruz observed many months ago, the whole Russian collusion delusion is a "nothing burger."…
MORE
.
—————————————————————————————
.
Man Arrested After 9 Dismembered Bodies Found At Japan Apartment – Breitbart
Police say a man in Zama City, Japan, was arrested Tuesday after several dismembered bodies were found in his apartment. Takahiro Shiraishi, 27, was initially taken into custody on a charge of discarding a body after the disappearance of a local woman.
The two allegedly met after she wrote on a suicide-oriented website. Security footage shows Shiraishi and the victim walking together at nearby train stations, officials said. Police said Shiraishi confessed to killing the woman and putting her body in a refrigerator.
Japanese media said a search of Shiraishi's apartment yielded parts of at least nine dismembered bodies, including two severed heads, the Japan Times reported. Police believe the bodies are those of eight women and one man. Investigators said DNA tests will identify them.
A neighbor in the apartment building said he noticed an unusual smell coming from Shiraishi's apartment after he became a resident in August, but did not observe any strange noises or voices. The apartment building is near Camp Zawa, a Japanese U.S. Army base…
MORE
.
—————————————————————————————
.
Mueller May Have Been Illegally Appointed To Job, Legal Expert Says – Law Newz
.

.
It's pretty clear that Trump is not a fan of special counsel Robert Mueller. There have been reports that he's even considering firing him or at least getting someone from DOJ to do it for him.
This week, The Wall Street Journal's editorial board called for Mueller to resign saying that "he lacks the critical distance to conduct a credible probe of the bureau he ran for a dozen years." However, according to one legal expert, he might not need to resign or be fired: Mueller might have been illegally appointed.
Douglas W. Kmiec, a law professor at Pepperdine University School of Law and former constitutional legal counsel for both Ronald Reagan and George Bush, has a very interesting argument: Robert Mueller may have been illegally or unconstitutionally appointed to the job…
MORE
.
—————————————————————————————
.
Collapse At North Korea Nuclear Test Site Leaves 200 Dead – Daily Telegraph
As many as 200 North Korean labourers have been killed after a mine shaft being dug at the regime's nuclear test site collapsed, according to Japan's Asahi TV. Sources in North Korea told the news channel that a tunnel being excavated by around 100 workers at the Punggye-ri test site collapsed earlier this month.
An additional 100 labourers sent to rescue their colleagues were reportedly killed when the tunnel suffered a second collapse. An exact date for the disaster has not been provided, but it comes shortly after North Korea conducted its sixth – and most powerful – underground nuclear test at the site.
North Korea claims the September 3 test beneath Mount Mantap was of a hydrogen bomb, with monitors suggesting the detonation was equivalent to an earthquake with a magnitude of 6.1 on the Richter scale. Some analysts put the yield of the weapon as high as 280 kilotons, while seismologists picked up signs of underground collapses in the hours and days after the blast…
MORE
.
—————————————————————————————
.
Returning ISIS Fighters To Be Offered Taxpayer-Funded Homes And Counseling To Stop Them From Carrying Out Attacks In Britain – Daily Mail
.

.
Terror suspects including jihadis returning from fighting in Syria are to be offered taxpayer-funded homes, counselling and help finding jobs to stop them carrying out attacks in Britain.
The top-secret Government strategy, codenamed Operation Constrain, could even allow fanatics to jump to the top of council house waiting lists.
Official documents seen by The Mail on Sunday reveal that up to 20,000 extremists previously investigated by MI5 will be targeted with what critics last night described as 'bribes' aimed at turning them away from extremism.
The highly contentious nationwide programme is due to start next year, with police and cash-strapped councils hoping the Home Office will pay for it out of its £900 million counter-terrorism budget…