.
Out-Of-Control Chinese Space Station Will Soon Plummet To Earth – The Economist
Its name means "heavenly palace". But Tiangong-1, an eight-tonne Chinese space station launched in 2011, will not remain in the heavens much longer.
After visits from crews in 2012 and 2013, Tiangong-1's mission officially ended in March 2016. A few months later China's space agency appeared to confirm what amateur skywatchers had already suspected, that it had lost control of the station. It said it expected Tiangong-1 to fall from the sky sometime late in 2017.
In fact, the station is still up there, orbiting at an average height of 250km. But the inaccuracy of the agency's prediction is understandable. At low altitudes (anything under about 2,000km), orbital mechanics is a surprisingly imprecise science.
Earth's thin outer atmosphere exerts a measurable drag on anything in such an orbit, and this drag means that, without regular boosts, that object will fall out of orbit eventually. The drag itself, however, is not constant. So exactly when this fiery fall will happen is hard to say in advance…
MORE
.
—————————————————————————————
.
Kate Steinle's Illegal Alien Murderer Who Was Set Free By San Francisco Leftists Is Now Suing The Federal Government – Independent Journal Review
.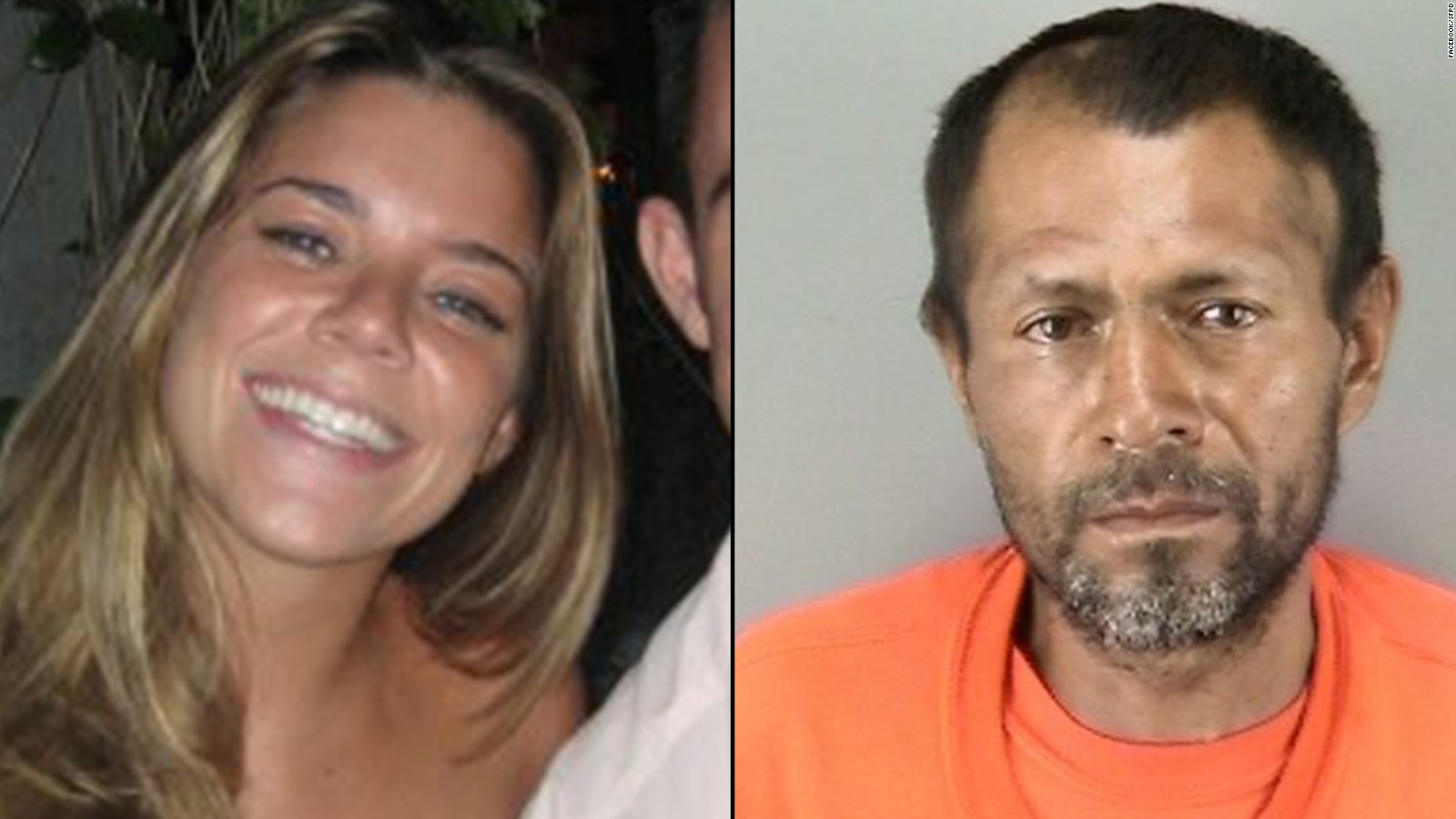 .
The illegal immigrant who was acquitted of the murder of Kate Steinle and his legal team are now asking for a court order to obtain documents to prove his gun charges are vindictive.
Mercury News reports Jose Garcia-Zarate's attorneys said in a court filing that his federal firearm prosecution is an attempt to punish him for his acquittal in the state judicial system. Garcia-Zarate is being charged with two counts of illegal gun possession. The legal team also points to President Donald Trump's tweets about the trial in their filing.
"Immediately after Mr. Garcia-Zarate was acquitted of the murder and assault allegations, President Trump maligned the verdict on Twitter, stating: 'A disgraceful verdict in the Kate Steinle case! No wonder the people of our Country are so angry with Illegal Immigration,'" it reads according to the Washington Times…
MORE
.
—————————————————————————————
.
Ohio Student Suspended For Staying In Class During National Walkout Day – Fox News
An Ohio high school student said he tried to stay apolitical during the National Walkout Day over gun violence but was suspended for his choice to remain in a classroom instead of joining protests or the alternative, going to study hall.
Jacob Shoemaker, a senior at Hilliard Davidson High School, said he didn't want to take sides in the gun-control debate consuming the country. If he went outside for the walkout, he said, he would be supporting gun control. If he stayed in the common area of the school, he said, he would be seen as supporting gun violence and disrespecting the 17 lives lost in the Parkland, Fla. High school shooting the month before.
Jacob had met with the school's principal on Tuesday, a day before the rally, for about an hour to find out what exactly the walkout was supporting. But he said the principal reportedly told him it was for the "students to express themselves."
This left Jacob wondering if it was a memorial for the lives lost or a show of support for gun control…
MORE
.
—————————————————————————————
.
AG Sessions Fires Crooked FBI Deputy Director McCabe Two Days Before His Pension Eligibility – Breitbart
.

.
Attorney General Jeff Sessions, acting on the recommendation of the FBI's Office of Professional Responsibility (OPR), fired former FBI Deputy Director Andrew "Andy" McCabe Friday. By dismissing McCabe – who was set to retire at the end of the month – before Sunday, Sessions may have jeopardized McCabe's ability to draw a pension.
Speculation Sessions might make this move has stirred since the Department of Justice Inspector General's report, which is yet to be publically disclosed, was reported to have recommend McCabe be fired over his handling of press disclosures during his investigation of the Clinton Foundation.
The OPR, upon reviewing the IG's report, issued a recommendation to fire McCabe. Attorney General Sessions issued the following statement, announcing his decision…
MORE
.
—————————————————————————————
.
Democrat State Rep. Triggered By General Hooker Sign On Massachusetts State House Entrance – NewBostonPost
A Democratic state representative from Brockton who made headlines a year ago when she took to social media to alert her constituents about a rumored Immigration and Customs Enforcement raid is in the news once again, this time for firing off a Facebook post calling for the removal of the sign marking the Massachusetts State House's General Hooker entrance.
State Representative Michelle DuBois, who was noticeably active on social media Wednesday praising the high school students who marched to Beacon Hill as part of an anti-gun movement, apparently noticed the General Hooker entrance sign adorning the State House's Beacon Street entryway – outside of which a towering statue depicts Hooker atop his horse – in several student photos.
DuBois complained that the sign is "tone deaf" and "patriarchal."
DuBois's connecting of the Hooker surname with the slang word used to denote a sex worker ignores the Hadley-born Hooker's services fighting on behalf of the Union states during the Civil War…
MORE
.
—————————————————————————————
.
IRS Documented 1.3M Identity Thefts By Illegal Aliens; Can't Say It Referred Any For Prosecution – CNS
.

.
The Internal Revenue Service in 2011 through 2016 documented more than 1.3 million cases of identity theft perpetrated by illegal aliens whom the IRS had given Individual Taxpayer Identification Numbers (ITIN), which are only given to people who are ineligible to work in the United States or receive Social Security Numbers, according to information published by the Treasury Inspector General for Tax Administration (TIGTA).
However, in response to inquiries from CNSNews.com, the IRS could not say if it had referred even one of these cases for criminal prosecution.
TIGTA, which is the inspector general responsible for overseeing the IRS, discovered another approximately 1.2 million cases in 2017…
MORE
.
—————————————————————————————
.
Ex-FBI Assistant Director Says Upcoming Inspector General Report Is "Pure TNT" – Zero Hedge
Former FBI Assistant Director Chris Swecker said today that a highly anticipated report from the DOJ's Inspector General Michael Horowitz will contain "some pure TNT." Horowitz has been investigating the conduct of the FBI's top brass surrounding the 2016 election for over a year.
He also uncovered over 50,000 text messages between two anti-Trump / pro-Clinton FBI employees directly involved in the exoneration of Clinton and the counterintelligence operation launched against the Trump campaign.
Swecker: "The behavior if it's manifested in the action with your thumb on the scale of a particular investigation, one way or the other, that's borderline criminal behavior – manipulating an investigation. I think this IG report is going to be particularly impactful, more so than any of these useless congressional investigations. I think you're going to see some pure TNT come out in this IG report."
The Inspector General's report is thought to include evidence of outgoing Deputy FBI Director Andrew McCabe ordering agents to alter "302" forms…
MORE
.
—————————————————————————————
.
Honduran Migrant Pleads Guilty To Islamic State Plan To Bomb Miami Shopping Mall – Breitbart
.

.
A Honduran migrant has pleaded guilty to his involvement in a plan to blow up a shopping mall in Miami on behalf of the Islamic State (ISIS).
Vicente Adolfo Solano, 53, told an undercover agent in 2017 that he was unhappy with the United States and wanted to carry out an attack in Miami's Dolphin Mall, and also expressed a desire to join the caliphate.
"According to the stipulated factual basis filed with the Court, in early 2017, Solano told an individual, who later became a Confidential Human Source ('CHS') for the government, that he was upset with the United States and wanted to conduct an attack in Miami," reads a statement from U.S. Attorney's Office for the Southern District of Florida…
MORE
.
—————————————————————————————
.
Leftist Students Trash Walmart During Anti-Gun Walkout In Chicago – Daily Caller
It was supposed to be 17 minutes of silent protest in honor of the 17 people killed last week in Parkland, Florida, in the mass shooting at Marjory Stoneman Douglas High School. But on the south side of Chicago Wednesday morning, there was no silence as students who walked out of nearby Simeon Career Academy trashed a Walmart during their walkout protest.
Dozens of student walked out of Simeon at the appointed time of the protest, only to enter Walmart and knock over store displays and rip products off the shelves. Video of the aftermath shows aisles trashed and there is apparently surveillance video which police are using in an attempt to identify the perpetrators.
"We are very concerned by these allegations and we are reviewing the matter," read a statement from a Chicago schools spokesman.
Chicago Alderman Howard Brookins, who Fox 32 says helped attract Walmart to the area, said, "We've worked too hard to try to get these national retailers here in our community…
MORE
.
—————————————————————————————
.
ProPublica Retracts Fake News Attack Against Trump's CIA Pick – Breitbart
.

.
The left-wing "investigative journalism" site ProPublica, a non-profit funded in part by far-left billionaire George Soros, was forced to walk back an attack piece aimed at Gina Haspel, President Trump's pick to lead the CIA.
In late February, ProPublica accused Haspel, a career CIA staffer, of overseeing a CIA "black site" in Thailand in 2002 where terrorist Abu Zubaydah "was subjected to waterboarding and other coercive interrogation methods that are widely seen as torture."
Worse still, this fake news included the smear that Haspel "mocked the prisoner's suffering in a private conversation."
ProPublica now states, "Neither of these assertions is correct and we retract them…
MORE
.
—————————————————————————————
.
Environmental Groups Back Ted Cruz, Republicans On Overhaul Of Renewable Fuel Standard – Washington Times
Green groups were among the loudest champions for the federal government's sweeping ethanol mandate a decade ago, touting it as a near-magic fuel that could help ease a climate crisis.
But the Renewable Fuel Standard (RFS) that boosted ethanol use has fallen out of favor so badly that environmentalists now see themselves on the same side of the debate as Republicans such as Sen. Ted Cruz, arguing that the entire program is deeply flawed and must be completely overhauled.
The intense opposition to the RFS from environmental and conservation groups comes as the White House and congressional leaders work to craft the most serious reforms the program has seen since it was established more than 10 years ago.
As Republicans and oil-industry groups bemoan the RFS as a job killer in the oil refining sector, environmentalists say their once-high hopes that ethanol could reduce carbon emissions, preserve land and help fight climate change have been proven wrong…
MORE
.
—————————————————————————————
.
Strzok And Page Plotted Covert Meeting With Presiding Judge In Michael Flynn Case – National Review
.

.
Two federal law-enforcement officials who were removed from Special Counsel Robert Mueller's Russia investigation for exchanging partisan text messages conspired to set up a meeting with the presiding judge in the case against Michael Flynn, according to text messages obtained by The Federalist.
Foreign Intelligence Surveillance Court (FISC) judge Rudolph Contreras was recused from the case days after Flynn pled guilty to lying to the FBI about his contacts with Russians. Officials never provided a justification for the recusal.
The text messages betwee Peter Strzok, who briefly ran Mueller's probe as the FBI's No. 2 counterintelligence official, and Department of Justice lawyer Lisa Page reveal the pair had a personal relationship with Contreras…
MORE
.
—————————————————————————————
.
Activist Judge Blocks Los Angeles From Enforcing Majority Of Gang Restrictions – Daily Caller
U.S. District Judge Virginia Phillips ruled Thursday that Los Angeles can no longer enforce gang restrictions deemed unconstitutional by the ACLU.
According to the Los Angeles Times, the restrictions helped seriously curb gang violence in the 1990s, yet were attacked by the ACLU on the grounds that they target gangs rather than individual gang members and violate due process in doing so.
The ACLU's senior staff attorney, Peter Bibring, said that Phillips, who was appointed to the California Central District court by former President Bill Clinton in 1999, "clearly recognizes the way the city of Los Angeles has been enforcing gang injunctions over decades violates due process in a way that makes it likely they will place people on gang injunctions who may not be gang members."
"This ruling marks the end of gang injunctions as they worked in the city of Los Angeles."
Police officers violating the ruling will reportedly face arrest…
MORE
.
—————————————————————————————
.
Leftist Congresswoman Louise Slaughter Dies At Age 88 – USA Today
.

.
Rep. Louise Slaughter, a Democrat who represented the Rochester area in Congress since 1987, has died. She was 88. Her office confirmed her death Friday morning.
Her chief of staff revealed earlier this week that she had suffered a head injury after a fall, and had been hospitalized with a concussion.
"To have met Louise Slaughter is to have known a force of nature," chief of staff Liam Fitzsimmons said. "She was a relentless advocate for Western New York whose visionary leadership brought infrastructure upgrades, technology and research investments, and two federal manufacturing institutes to Rochester that will transform the local economy for generations to come."…
MORE
.
—————————————————————————————
.
Multiple Felon And Failed U.S. Presidential Candidate Breaks Wrist After Slipping In India Resort Bathtub – Fox News
Hillary Clinton's visit to India suffered another setback this week as the former secretary of state fractured her wrist after slipping in the bathtub at the five-star resort where she was staying, according to a report by DNA India.
The website reported that Clinton was taken to a hospital in the city of Jodphur at around 5 a.m. local time Wednesday. Clinton underwent an X-ray and a CT scan that confirmed a hairline fracture of her right wrist.
The Times of India reported that Clinton had been given a plaster bandage and advised to go for another checkup in three days. The injury does not impact Clinton's ability to travel.
The Times of India and DNA India both reported that Clinton had been treated for pain in her right hand since she arrived in Jodphur Tuesday afternoon. The pain forced her to cancel a planned visit to the 15th-century Mehrangarh Fort Tuesday evening…
MORE
.
—————————————————————————————
.
After A Year In Space, Astronaut Returnes To Earth With DNA That No Longer Matches His Twin Brother's – Daily Caller
.

.
NASA astronaut Scott Kelly returned to Earth after a year of space travel and new studies reveal that his DNA is now different from that of his identical twin brother, Mark Kelly. The results of the NASA study show how the physical and mental impact of living in space for a year can significantly change the human body.
"Researchers learned that spaceflight is associated with oxygen deprivation stress, increased inflammation, and dramatic nutrient shifts that affect gene expression," NASA's website explains.
The telomeres, or caps, of Scott's chromosomes (which aid the human aging process) lengthened as a result of space travel…
MORE
.
—————————————————————————————
.
Obama DOJ Ordered 500,000 Fugitives Deleted From Background Check Database – Zero Hedge
The Obama administration ordered the removal of over 500,000 fugitives with outstanding arrest warrants from the National Instant Criminal Background Check System (NICS) in late 2016, according to testimony from Acting FBI Deputy Director David Bowdich.
Bowdich confirmed a November report from the Washington Post which set the figure at "tens of thousands," after Sen. Dianne Feinstein (D-CA) asked him if more than 500,000 names were dropped from the database.
The FBI purged the names from the database after the Justice Department changed its legal interpretation of "fugitive from justice" to say it pertains only to wanted people who have crossed state lines.
What that means is that those fugitives who were previously prohibited under federal law from purchasing firearms can now buy them, unless barred for other reasons. -WaPo
"That was a decision that was made under the previous administration," Bowdich testified…
MORE
.
—————————————————————————————
.
Communist Assclown Bernie Sanders Attended Anti-Gun Rights Protest Surrounded By Armed Guards – Washington Standard
.

.
Well, you know the hypocrisy that is always on display with celebrities and Communist politicians who praise gun confiscation. They inevitably are surrounded with armed guards. Senator Bernie Sanders (D-VT) is no exception.
Sanders was flanked by armed guards as he attended the anti-Constitution, Communist gun grabbing protests led by children, most of whom can't even vote yet. The Vermont senator live-streamed video of himself as he made his way through the crowd of gun confiscation advocates on Wednesday from Washington, DC.
"We're with students protesting gun violence," Sanders wrote on Facebook.
No, they really were not protesting gun violence. They were advocating for Congress to violate the rights of law-abiding gun owners…
MORE
.
—————————————————————————————
.
GOP Cites Numerous Issues At Polling Sites Ahead Of Likely Pennsylvania Recount – Washington Free Beacon
Republicans are citing numerous problems at polling sites in Tuesday's special election in Pennsylvania, which remains too close to officially call but appears to be trending toward an extremely narrow victory for Democrat Conor Lamb.
Lamb currently leads Republican Rick Saccone by just 627 votes and there are still absentee and provisional ballots that have not been tabulated, but Republicans are already preparing for the likely recount and even a possible lawsuit regarding issues at polling sites, according to a Republican source familiar with the deliberations.
"We're actively investigating three instances and likely to file court action on them," the source said.
Among the listed concerns are "miscalibrated" voting machines in Allegheny County, the only county of four in the district that went for Lamb, according to the source, who said there have been many reports of voters who intended to vote for Saccone ending up casting a ballot for Lamb…
MORE
.
—————————————————————————————
.
198 Ensnared In Jacksonville Food Stamp Fraud Totaling $3.7 Million – WCWJ
.

.
Sheriff Mike Williams announced Tuesday the results of a multi-agency, undercover investigation into the exchange of Supplemental Nutrition Assistance Program benefits for cash and, in at least one case, cocaine.
From 2012 to 2017, Jacksonville Sheriff's Office detectives, working with federal and state agencies, documented more than 22,000 fraudulent transactions involving $3.7 million in taxpayer money.
"These people are selling or stealing money from hardworking taxpayers right here in our community, and they are abusing a program that is meant to help people," Williams said.
Williams said that during Operation Half-Back, undercover officers personally observed 115 individuals in 390 fraudulent transactions from February to July 2017…
MORE
.
—————————————————————————————
.
Joe Biden And John Kerry's Sons Struck Billion-Dollar Deal With The Chinese Government 10 Days After Biden Trip To China – Breitbart
Former Vice President Joe Biden's son Hunter Biden inked a billion-dollar deal with a subsidiary of the Chinese government's Bank of China just 10 days after the father and son flew to China in 2013.
The Biden bombshell is one of many revealed in a new investigative book Secret Empires: How the American Political Class Hides Corruption and Enriches Family and Friends by Government Accountability Institute President and Breitbart News Senior Editor-at-Large Peter Schweizer. Schweizer's last book, Clinton Cash, sparked an FBI investigation into the Clinton Foundation.
According to an exclusive New York Post excerpt from the book, the Biden billion-dollar China deal occurred as follows. In 2013, Hunter Biden and the stepson of former Secretary of State John Kerry, Chris Heinz, were managing partners in the private equity firm Rosemont Seneca Partners…