.
Trump Bump: Small Business 'Optimism Index' Breaks 45-Year Record – Washington Times
Main Street continues to flourish under the Trump administration. The National Federation of Independent Business reports that optimism is at a 45-year high among America's small businesses. The "Small Business Optimism Index" – a monthly gauge of sentiment among the owners – has broken the record for the measurement, established 45 years ago.
"Main Street is roaring," said Juanita Duggan, president and CEO of the group, which represents 325,000 small business concerns in all 50 states. "Small business owners are not only reporting better profits, but they're also ready to grow and expand. The record level of enthusiasm for expansion follows a year of record-breaking optimism."
Among the findings: 41 percent of the members reported they expect the economy to improve, a third say it's an ideal time to expand; another third report an increase in job openings; while 31 percent reported "higher worker compensation" for their employees.
"The historically high index readings over the last year tell us small business owners have never been more positive about the economy…
MORE
.
—————————————————————————————
.
San Francisco Fines Landlord $2 Million Because She Offered Homeless And Disabled Veterans Cheap Rent – Washington Standard
.

.
In the land of the free, government and law enforcement not only wage war on the poor and homeless through various unscrupulous means designed to extract revenue and attack the right to exist but those who try to help the homeless – by feeding, clothing, or sheltering them – also face the wrath of the state.
As the following case illustrates, even those who've laid down their lives for the state – veterans – and the ones who help them are now being targeted.
Judy Wu, a landlord in San Francisco has converted 12 properties she owns into 49 housing units over the last decade which she and her husband, Trent Zhu, rent to homeless, low-income and disabled veterans…
MORE
.
—————————————————————————————
.
California High School Snowflakes Ban National Anthem From Pep Rallies – Fox News
The Star Spangled Banner will no longer be played at rallies at California High School in San Ramon after student leaders determined the song is racially insensitive.
"It was brought to our attention that the national anthem's third verse is outdated and racially offensive, wrote the president of the school's Associated Study Body. "We had nothing but good intentions by removing the song so that we could be fully inclusive to our student body."
The decision to eliminate the national anthem from student rallies has resulted in a significant amount of backlash from patriotic students and residents.
"There's been a lot of push back on the removal of the anthem – and not just from conservatives," senior Dennis Fiorentino said on the Todd Starnes Radio Show.
Fiorentinos, who was a guest Tuesday on my nationally syndicated radio program, said he was shocked when he realized the national anthem had been banned…
MORE
.
—————————————————————————————
.
Obama's Painter Has Long 'Predatory,' 'Perverse' History Of Sneaking Sperm Into Paintings – Daily Caller
.

.
The artist who painted former President Barack Obama for the National Portrait Gallery in the Smithsonian has a history of including depictions of sperm in his work, and has been described as "predatory" and "perverse" by The Village Voice.
Kehinde Wiley is well-known for recreating famous paintings, but replacing the featured white person – often a noble or general – with a young black man. Wiley often met the men on the street, brought them into his studio, and had them pick a work to be painted into, the famously left-wing Village Voice reported in March 2015.
Wiley "lures young men into his studio with the promise of power and glamour," writer and art critic Jessica Dawson wrote. She called the behavior "predatory" and "perverse."…
MORE
.
—————————————————————————————
.
3-Year-Old Being Transported To Hospital In Ambulance Is Killed By Drunk-Driving Illegal Alien – Daily Mail
A toddler who was being transported to hospital in an ambulance has died after a drunk driver struck the vehicle.
The Winston-Salem Police Department says they were informed at 6:05pm on Monday that the three-year-old boy had died at Wake Forest Baptist Medical Center. Authorities offered no additional details.
The boy was being taken to the hospital trauma center around 1am Sunday when a drunk driver – who turned out to be an illegal immigrant – hit the medical transport, causing it to roll over on its side, police said.
The driver, 27-year-old Jose Martin Duran Romero and his passenger, 33-year-old Andres Leon, initially tried to flee the scene. A witness stopped one of the men from leaving while the other was quickly apprehended by police.
Two hours after the crash, Romero submitted to a breathalyzer and registered more than two times the legal limit of alcohol in his system…
MORE
.
—————————————————————————————
.
Israel's 'Deep State' Targets Netanyahu With Bogus Charges – Breitbart
.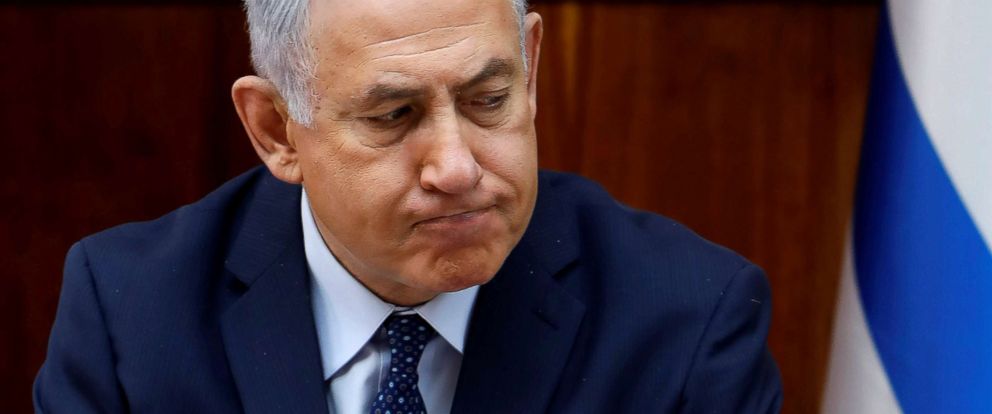 .
The Israeli police investigation against Israeli Prime Minister Benjamin Netanyahu shows remarkable similarities with the Special Counsel probe against President Donald Trump in the United States.
During the prime time news broadcasts Tuesday evening in Israel, the dramatic news was announced that Israel Police investigators are recommending that Israel's Attorney General, Avichai Mandelblit, indict Prime Minister Benjamin Netanyahu on bribery and breach of trust charges in two investigations.
The news raises a number of obvious questions about Netanyahu's political future. But it also raises an equal, if not greater, number of questions about the purity of the police service's intentions and its trustworthiness…
MORE
.
—————————————————————————————
.
A Racist Con-Man: Obama's Portrait Artist, Who Hires Cheap Chinese Labor To Paint "His" Work, Says, "Kill Whitey" Is A Major Theme – Gateway Pundit
Since Obama's portrait was unveiled, I've received a flurry of text messages from outraged artist friends I made while living in New York.
No, they weren't outraged because they saw Kehinde Wiley's other painting that feature black women murdering white women. They were outraged because Kehinde Wiley is a terrible artist who only rose to prominence, something they have been attempting to do their entire lives, in the art world because he is a racist gay black man.
And if that werent enough: he doesn't even paint his own work.
Back in April 2012, Wiley New York magazine wrote a glowing piece covering Wiley and his "global reach."…
MORE
.
—————————————————————————————
.
U.S. Runs January Budget Surplus Of $49 Billion, Treasury Says – MarketWatch
.

.
The U.S. government had a monthly budget surplus of $49 billion in January, down slightly from the same month last year. For the fiscal year to date, the government's deficit is $176 billion, up from $159 billion in the year-ago period.
Some of the big drivers of spending in January were for the Department of Homeland Security, and interest on the public debt. Outlays for Homeland Security climbed by $2 billion, or 41% – something the Congressional Budget Office said was largely for disaster relief.
Receipts were up 5% more in January than last year, and withholding of individual income and payroll taxes was larger than usual since this January had one more business day than last year, CBO said…
MORE
.
—————————————————————————————
.
U.S. Strikes Killed Scores Of Russian Mercenaries In Syria, Sources Say – Bloomberg
U.S. forces killed scores of Russian mercenaries in Syria last week in what may be the deadliest clash between citizens of the former foes since the Cold War, according to one U.S. official and three Russians familiar with the matter.
More than 200 contract soldiers, mostly Russians fighting on behalf of Syrian leader Bashar al-Assad, died in a failed attack on a base held by U.S. and mainly Kurdish forces in the oil-rich Deir Ezzor region, two of the Russians said. The U.S. official put the death toll in the fighting at about 100, with 200 to 300 injured, but was unable to say how many were Russians.
The Russian assault may have been a rogue operation, underscoring the complexity of a conflict that started as a domestic crackdown only to morph into a proxy war involving Islamic extremists, stateless Kurds and regional powers Iran, Turkey and now Israel.
Russia's military said it had nothing to do with the attack and the U.S. accepted the claim. Defense Secretary Jim Mattis called the whole thing "perplexing," but provided no further details…
MORE
.
—————————————————————————————
.
Bombshell Email Suggests Comey Misled Congress About Meetings With Obama On Russian Hacking – Law And Crime
.

.
A newly-discovered email suggests former FBI Director James Comey may have been less than honest about his meetings with former president Barack Obama on the subject of Russian interference with and during the 2016 general election.
Senators Lindsey Graham (R-SC) and Chuck Grassley (R-IA) released the email on Monday after requesting "records of meetings between President Obama and then-FBI Director Comey regarding the FBI's investigation of allegations of collusion between associates of Mr. Trump and the Russian government."
In turn, the National Archives provided Grassley and Graham with "classified and unclassified versions" of the email in question…
MORE
.
—————————————————————————————
.
Trump Unveils 11th Round Of Judicial Nominees – Washington Times
President Trump announced his 11th wave of judicial nominees on Monday, intending to nominate nine federal judges including four federal circuit court picks. Since taking office roughly one year ago, Mr. Trump faced an unprecedented amount of vacancies on the federal bench. He's had 13 circuit court judges confirmed in the past year.
His list Monday included five district court nominees and four circuit court picks, including: Mark J. Bennett for the 9th U.S. Circuit Court of Appeals, Andrew S. Oldham for the 5th U.S. Circuit Court of Appeals, Michael Y. Scudder, Jr. for the 7th U.S. Circuit Court of Appeals, and Judge Amy J. St. Eve for the U.S. 7th Circuit Court of Appeals.
The announcement comes as the Senate Judiciary Committee is scheduled to hold confirmation hearings for five judges on Wednesday and vote on four Thursday, setting them up for a confirmation vote on the Senate floor.
There are 26 judicial nominees currently awaiting confirmation votes as of Monday…
MORE
.
—————————————————————————————
.
Hillary's #MeToo Moment: Clinton-Sponsored Radical Islamist Academic Accused Of Rape – American Mirror
.

.
There's a problem with failed presidential candidate Hillary Clinton's support for the "Me Too" movement, and his name is Tariq Ramadan. The radical Islamic scholar, one of two with terrorist ties that Clinton personally vouched for as President Obama's Secretary of State, is among the latest to be accused of rape in what's become a worldwide epidemic of women accusing powerful men of sexual misconduct.
According to the Swiss news site, The Local:
Two Muslim women have accused Ramadan, a 55-year-old Oxford University professor whose grandfather founded Egypt's Muslim Brotherhood movement, of rape. Henda Ayari, a 41-year-old feminist activist who previously practised an ultra-conservative brand of Islam, claims Ramadan raped her in Paris in 2012…
MORE
.
—————————————————————————————
.
Trump Budget Would Cut Entitlement Spending By $1.7 Trillion, Reduce Deficit By $3 Trillion Over 10 Years – RedState
President Donald J. Trump's fiscal year 2019 budget proposal calls for $1.7 trillion in cuts over a decade to entitlement programs, including Medicare, and a two percent yearly reduction in non-defense discretionary budget after 2019, according to a White House summary obtained by Bloomberg News.
According to Bloomberg, the summary states the budget will propose cutting spending on Medicare by $237 billion but doesn't specify other mandatory programs that would face reductions. It also states the plan would cut the federal deficit by $3 trillion over 10 years and reduce debt as a percentage of gross domestic product.
According to the summary, Trump will urge an increase in defense spending to $716 billion and a 2.6 percent pay raise for troops. He will request $18 billion to build a wall on the Mexican border, the summary indicates.
The proposed budget also seeks $200 billion for Preident Trump's infrastructure proposal as well as new regulatory cuts…
MORE
.
—————————————————————————————
.
'Like A Sketch By A Sixth Grader': Outcry Greets Newly Unveiled Michelle Obama Portrait That Looks Nothing Like Her, While Barack's Is Likened To Beyonce's Birth Announcement – Daily Mail
.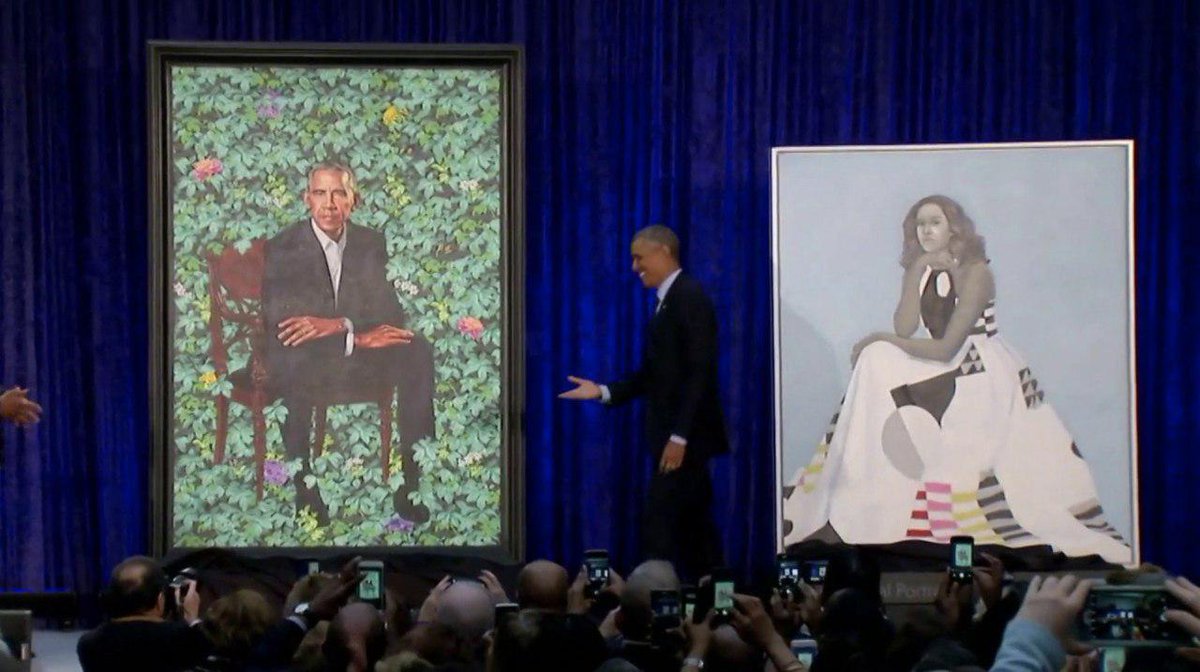 .
Former President Barack Obama and first lady Michelle were in attendance on Monday as their portraits were unveiled at the National Portrait Gallery in Washington, DC.
While President Obama's striking portrait by Kehinde Wiley garnered audible gasps of awe from the audience, Michelle's portrait was not as warmly welcomed. Many online said that Amy Sherald's portrait didn't even look like Michelle.
'Amy Sherald should have met Michelle Obama before making that portrait,' one user wrote. Others went so far as to criticize the artist's skill, comparing the work to a kid's art project.
'Okay legit that Michelle Obama portrait looks like a sketch by a sixth grader,' Twitter user Ashley Rae wrote…
MORE
.
—————————————————————————————
.
Ontario Sheds 59,300 Part-Time Jobs In January As New $14 Minimum Wage Begins – CBC
Ontario shed some 59,300 part-time jobs in January – the same month the province hiked minimum wage some 20 per cent to $14 an hour, but experts say it may be too soon to know how much the two are correlated.
The province shed 50,900 jobs total from December 2017, according to the Statistics Canada report. It gained approximately 8,500 full-time positions but lost roughly 59,300 part-time gigs, according to data provided by the agency, which noted the figures are rounded.
That means there was 3.4 per cent or 46,100 fewer part-time posts in January 2018 than the same time the previous year. Some economists said it's possible Ontario's minimum wage increase played a role in those declines, but noted it's important not to read too much into one month of data.
Ontario Economic Development Minister Steven Del Duca dismissed the suggestion that the part-time job losses were a result of the provincial government's minimum wage increase…
MORE
.
—————————————————————————————
.
America Still Has No Ambassador To Germany, And It's The Senate's Fault – Daily Caller
.

.
It's been five months since President Trump first nominated Richard Grenell to be the United States' ambassador to Germany, and yet Grenell is still waiting for the Senate to confirm him so he can start his job.
Refusing to confirm Grenell not only impedes America's foreign policy interests – Germany is one of America's most important allies – but impedes historical progress as well: if confirmed, Grenell would be the highest-ranking openly gay diplomat in American history.
The absence of American diplomatic leadership in Berlin is painfully obvious in light of two recent developments, Grenell's backers say. The New York Times reported earlier this week that American and Russian spies tried to negotiate a deal last year for damaging information on President Trump…
MORE
.
—————————————————————————————
.
Legendary Singer Vic Damone Dies At Age 89 – Fox News
Legendary crooner Vic Damone passed away on Sunday at the age of 89, his family tells Fox News. Damone, whose smooth baritone led Frank Sinatra to famously declare he "had the best pipes in the business," died at Mount Sinai Medical Center in Miami Beach, Fla., surrounded by several close relatives.
Damone also received a call from his friend, President Donald Trump, at the hospital in the days before he died, his family said.
Damone starred in several television series, including "The Vic Damone Show" on NBC, and hit movies including "Kismet" and "Rich, Young and Pretty," but the singer did not consider himself a true crossover star.
"I never thought of myself that way," Damone wrote in his memoir. "That wasn't my particular gift. My gift was singing."
Best known for hits "You're Breaking My Heart" and "On the Street Where You Live,"…
MORE
.
—————————————————————————————
.
Tom Fitton: There Are At Least Four Anti-Trump Dossiers By Obama-Clinton Cabal – Gateway Pundit
.

.
In a video posted to Twitter Sunday, Judicial Watch president Tom Fitton said there are at least four different anti-Trump dossiers stemming from Obama-Clinton inc.
"@JudicialWatch lawsuit uncovered ANOTHER Russia Dossier used to undermine @RealDonaldTrump – this one created by Obama State Department. By my count, there are now at least 4 Obama/Clinton "get Trump" dossiers," tweeted Judicial Watch.
FITTON: "There was no basis for a legitimate investigation into alleged collusion between Donald Trump and the Russians. The only basis was a smear job created by Hillary Clinton's political operatives. In fact, there came out another Clinton dossier, this one created by Cody Shearer, who also got it to the FBI supposedly through Fusion GPS. Cody Shearer goes way back, he's a longtime Clinton operative-henchman…
MORE
.
—————————————————————————————
.
Russian Passenger Plane Crashes Less Than 10 Minutes After Take-Off Killing All 71 People On Board – Daily Mail
All 71 people on board a passenger plane have died when it 'broke up in the sky' just minutes after taking off from Moscow Airport. The Antonov An-148, which was operated by Saratov Airlines, came down near the village of Argunovo, 50 miles south east of the capital on Sunday.
A source from Russia's emergency services told Interfax that the passengers and crew 'had no chance' of survival. Shocked witnesses reportedly said they saw a burning plane falling from the sky and wreckage was spread over a large area.
A source told news agency TASS: 'Debris has been found, there are no survivors.' A video filmed by local boys showed wreckage in the snow and debris was found spread over a 'large area'. One source added: 'It appears the plane began to fall apart in the sky.'
The Antonov was operated by domestic Saratov Airlines and was flying to Orsk, a city in the Urals. There were 65 passengers and six crew on the plane. An emergencies ministry source told Interfax: 'The plane crashed near the village of Argunovo…
MORE
.
—————————————————————————————
.
Peeling Back The Layers Of Hillary Clinton's Deceit – Michael Goodwin
.

.
For law enforcement, Congress and even journalists, exposing misdeeds is like peeling an onion. Each layer you remove gets you closer to the truth.
So it is with the scandalous behavior of the FBI during its probe into whether President Trump's campaign conspired with Russia in 2016. One layer at a time, we're learning how flawed and dirty that probe was.
A top layer involves the texts between FBI lawyer Lisa Page and her married lover, Peter Strzok, the lead agent on the Hillary Clinton e-mail probe. They casually mention an "insurance policy" in the event Trump won the election and a plan for Strzok to go easy on Clinton because she probably would be their next boss…
MORE
.
—————————————————————————————
.
Trump Announces Brutal Changes To Government Worker Pay – Conservative Tribune
President Donald Trump's 2019 budget aims to bring brutal changes to the federal civilian workforce, and it could spell trouble for some employees who do not measure up.
The budget, which is set to be released Monday, contains some of the biggest reforms to the workforce in decades. To put it simply, Trump's plan seeks to "hire the best and fire the worst," USA Today reported.
Senior officials with the Office of Management and Budget who spoke anonymously with The Washington Times said the plan aimed to put a stop to regular, tenure – and merit – based raises for more than 1.5 million federal workers and instead focus on performance-based raises.
In other words, federal employees will now have to work hard for their raises, and those who do not perform well could be fired.
The proposal would reportedly generate $10 billion over 10 years for performance-based payments…
MORE
.
—————————————————————————————
.
A Pentagon Budget Like None Before: $700 Billion – Circa
.

.
It's the biggest budget the Pentagon has ever seen: $700 billion. That's far more in defense spending than America's two nearest competitors, China and Russia, and will mean the military can foot the bill for thousands more troops, more training, more ships and a lot else.
And next year it would rise to $716 billion. Together, the two-year deal provides what Defense Secretary Jim Mattis says is needed to pull the military out of a slump in combat readiness at a time of renewed focus on the stalemated conflict in Afghanistan and the threat of war on the Korean peninsula.
The budget bill that President Donald Trump signed Friday includes huge spending increases for the military: The Pentagon will get $94 billion more this budget year than last – a 15.5 percent jump…
MORE
.
—————————————————————————————
.
7 Anti-Trump Politicians And Institutions Who Colluded With The Russians – John Nolte
For months and months, our fake news media have been freaking out over a meeting Donald Trump Jr. took with a Russian lawyer in the hopes of getting some dirt on Hillary Clinton. Again and again, we have been told that this is the smoking gun of collusion between the Trump campaign and the Russian government.
Of course, that is nonsense. Moreover, Don Jr. and the others in attendance caught on to the scheme within a few minutes, and as far as we now know, that was the end of that. Unfortunately, the same cannot be said of others, who actually have colluded with the Russians as a means to dig up dirt on Trump.
Here are seven American politicians and institutions who have or are at least suspected of colluding with the Russians as a means to destroy President Trump.
The CIA
Although the far-left New York Times is desperately hoping to control the explosion of this bombshell…
MORE
.
—————————————————————————————
.
Israel Launches 'Large-Scale Attack' On Iranian Targets In Syria After F-16 Shot Down – USA Today
.

.
An Israeli fighter jet, under fire from Syrian anti-aircraft batteries, crashed Saturday as Israel mounted a heavy military response to what it said was the incursion of its airspace by an Iranian drone.
Two Israeli pilots were injured – one seriously – after abandoning their F-16 over northern Israel while taking part in what the Israeli military called a "large-scale attack" on at least a dozen Iranian targets in Syria.
The drone, which Israel said was launched from Syria, was shot down by an Israeli helicopter after what the military called a "severe and irregular violation of Israeli sovereignty."
Israeli military spokesman Jonathan Conricus said Israeli forces were "fully prepared for further action."…